Focus View
Watching baseball becomes more fun with NeoContrast™ lenses. Was Daimao Kosaka surprised by it?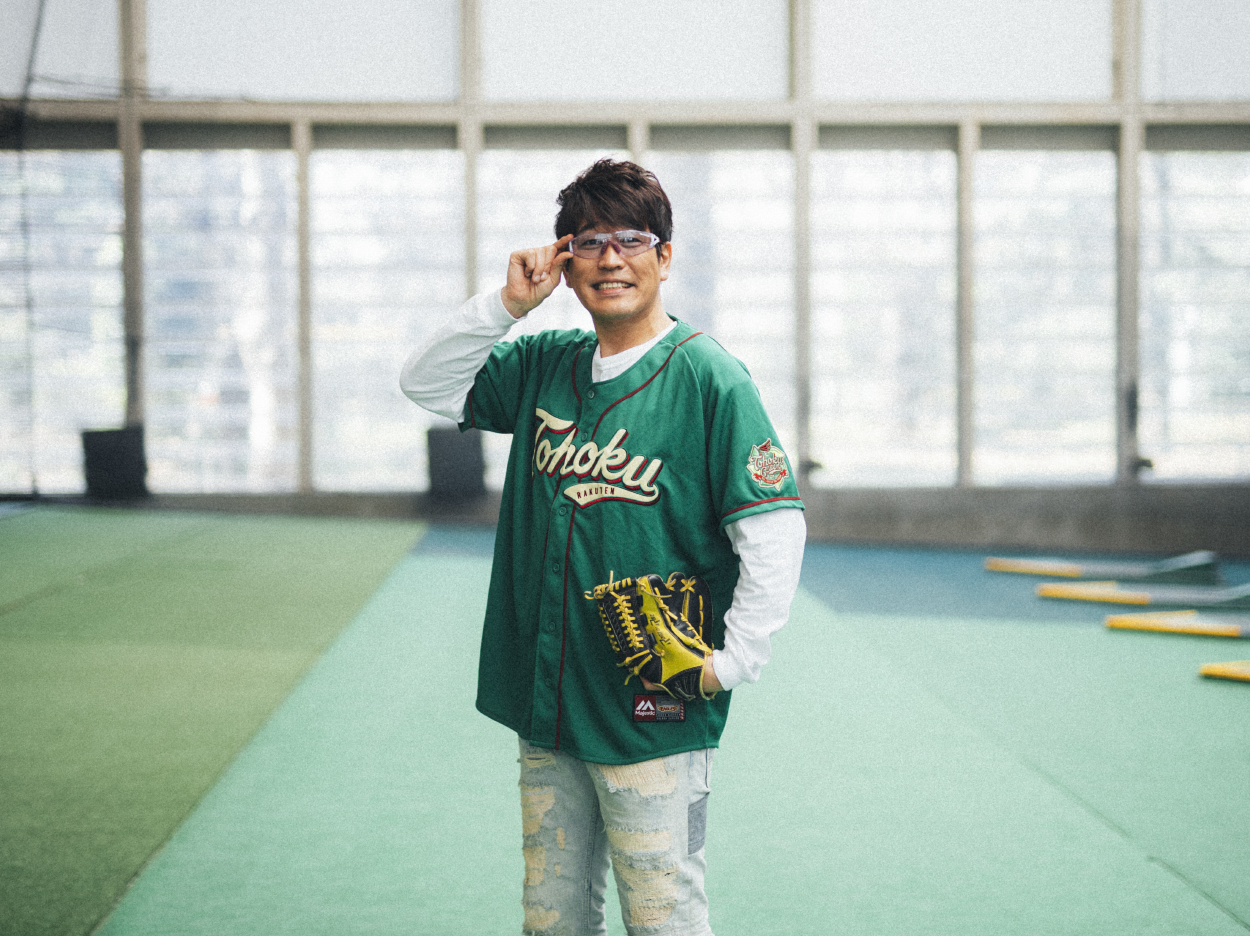 "It was difficult to see where the ball was and the movements of the players from the stands." There is a lens we recommend for those who feel such stress when watching live sports. This is an eyeglass lens material called NeoContrast™*1 that was created from a collaboration between Mitsui Chemicals, Inc. and HOPNIC LABORATORY Co.,Ltd
The NeoContrast™ Rakuten Eagles model started to be sold in February 2021 as eyewear for watching games in the stadium of the Tohoku Rakuten Golden Eagles (hereinafter "Rakuten Eagles") professional baseball team. This model is even used by some Rakuten Eagles players during games to make the contrast of their vision even clearer.
We asked Daimao Kosaka, a huge fan of the Rakuten Eagles, to experience the performance of this eyewear. How does Mr. Kosaka, who edits video by himself and who has a strong commitment to color and light, feel his vision changed? We looked to find the attractions of this eyewear together with Professor Tomoya Handa of Kitasato University and the persons in charge at Mitsui Chemicals, Inc. who promoted the realization of the Rakuten Eagles model.
Interview and writing: Noriyuki Enami (Yajirobee)
Photographs: Keita Tamamura
Editing: Masaya Yoshida (CINRA)
Can you really see the ball well?
Daimao Kosaka experiences this by playing catch!
This interview took place one day in March when the start of the professional baseball season just around the corner. Daimao Kosaka appeared in a batting practice facility in Tokyo dressed in the Rakuten Eagles uniform.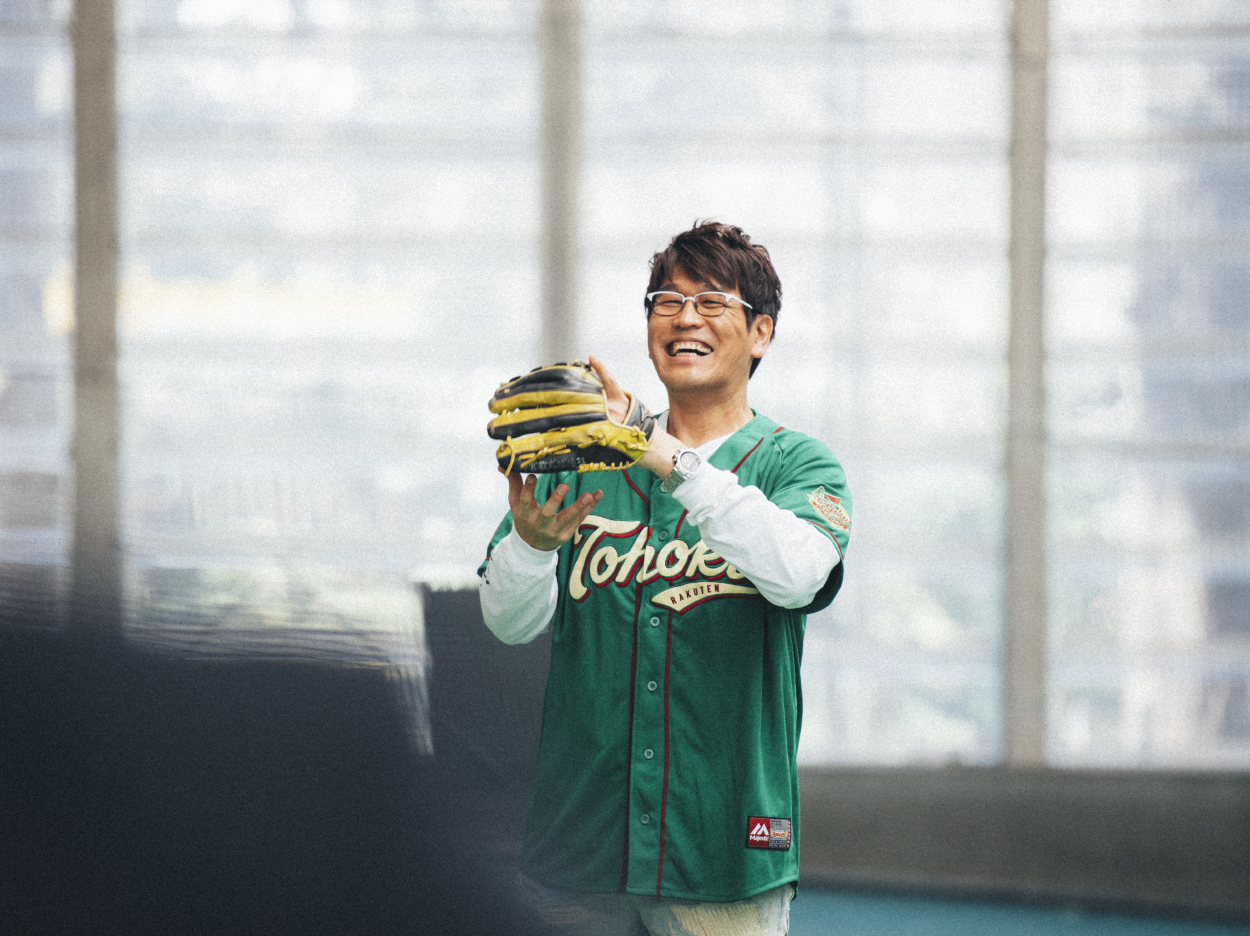 We had Mr. Kosaka play catch twice: once with his naked eye and once with NeoContrast™ eyewear. This was so he could feel the changes in how he saw the ball. First, Mr. Kosaka warmed up with his naked eye. (*The glasses worn by Mr. Kosaka are for fashion only.)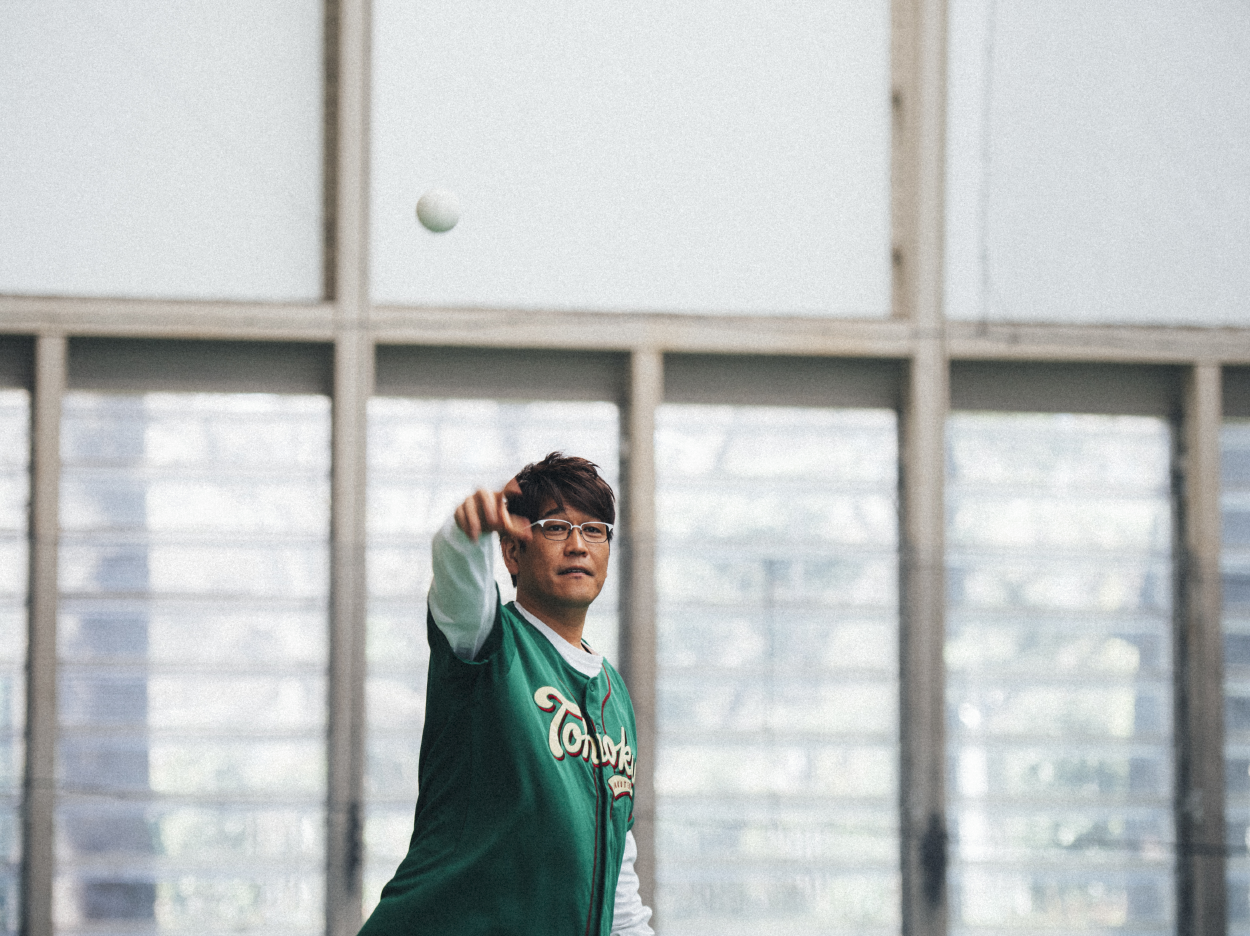 Daimao Kosaka (hereinafter "Kosaka"):Oh! It's scary! This is the first time I have played catch in more than a year, so it is a little frightening. I must take care not to get injured.
While saying that, Mr. Kosaka moves nimbly. We finally ask him to wear the NeoContrast eyewear when he has warmed up.
Kosaka:Huh? I'm sorry. I can't really feel the difference just by putting them on.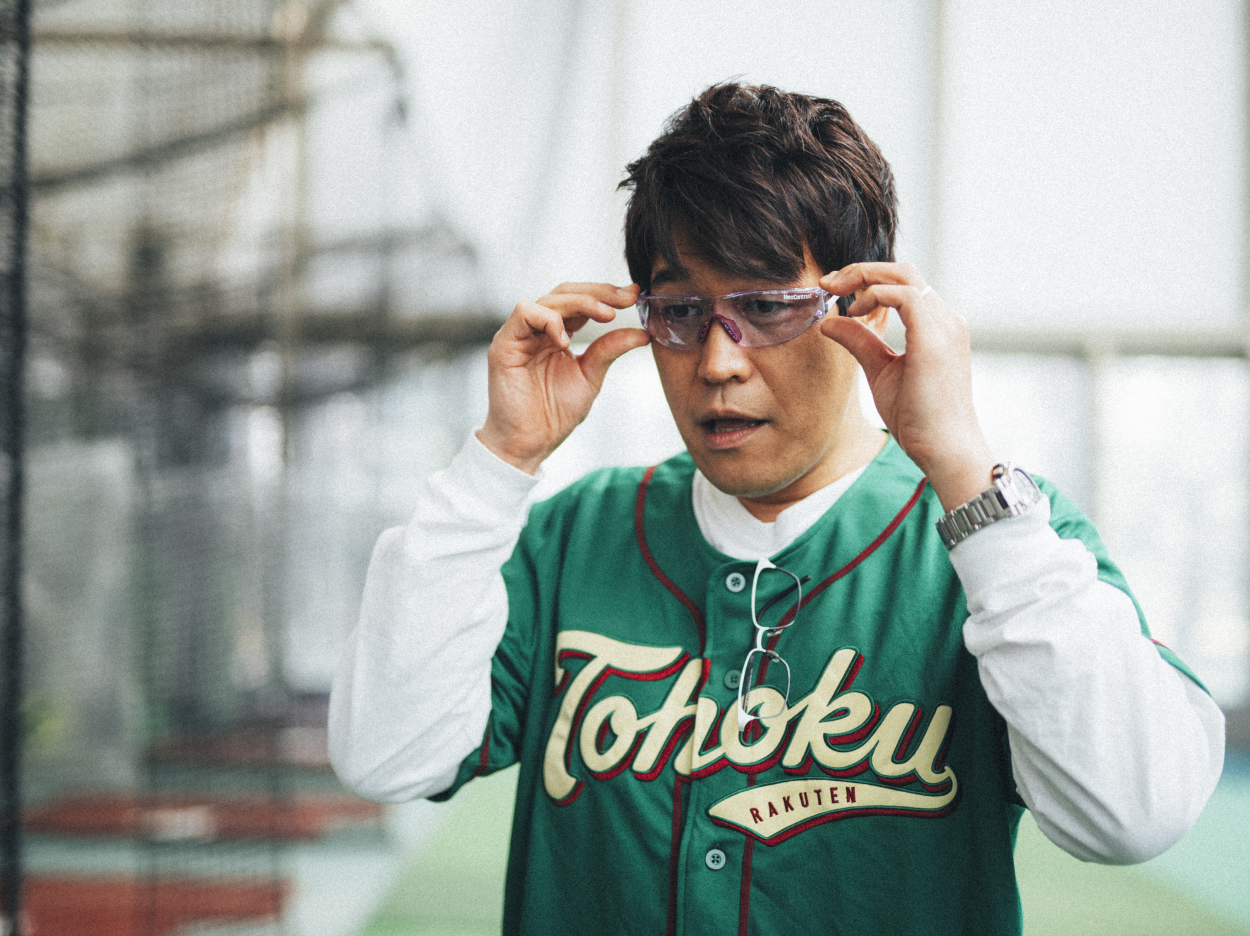 Frankly speaking, there is a little tension. The person in charge at Mitsui Chemicals rushed in with an explanation: "It may be difficult to understand the difference because there is poor lighting in the venue so it is dark. However, if you look at the scoreboard behind you, you will notice a big difference."
Kosaka:Oh! That's true! The appearance of the white is completely different. The yellow tint of the board has been cut and the white stands out, so the letters are clear. In addition, the green of the lawn looks crisp.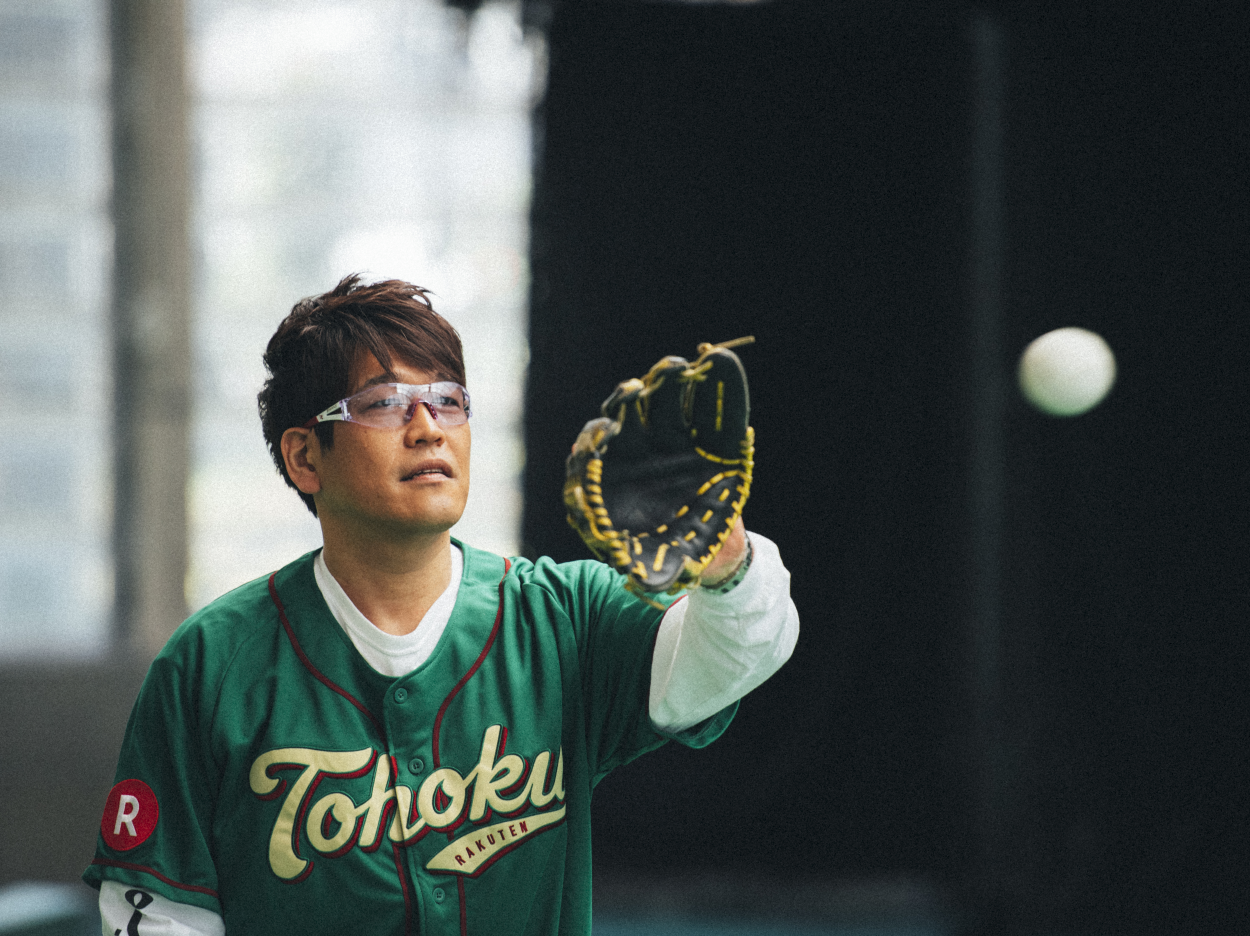 Kosaka:This is amazing! I can see the ball more clearly than with my naked eyes. There is no fear of the ball. Certainly, if I wore this eyewear to watch a baseball game, it would be easier to see the batted ball. I'm sorry I said there was no difference before (with laughter sound).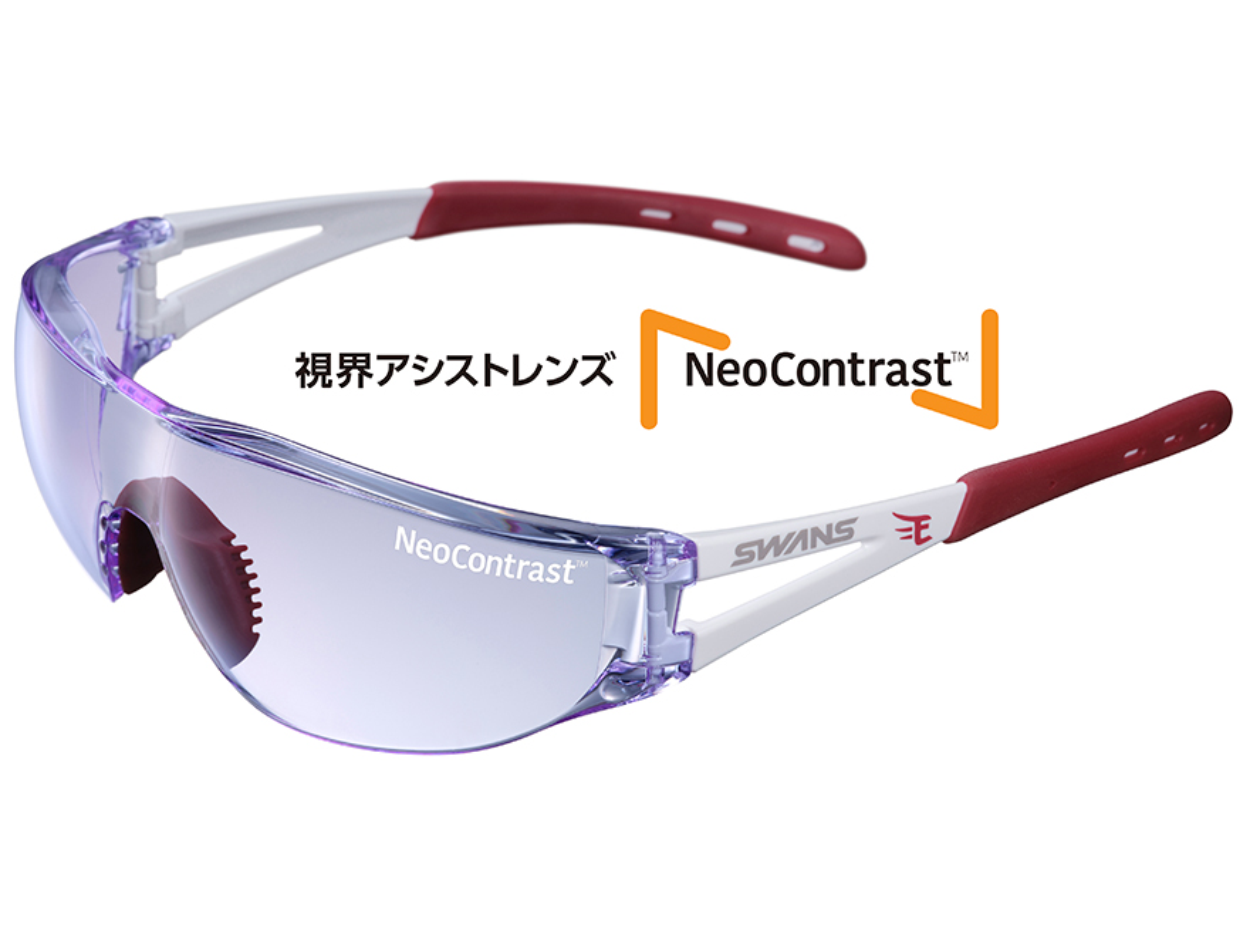 NeoContrast™ eyewear is not just for watching baseball. Is eyewear that cuts only excess light also ideal for driving a car?
After playing catch, we set up an opportunity for Mr. Kosaka to directly tell the developers what interested him about NeoContrast™. Together with Yukihiro Kumamoto and Yoshiaki Igarashi of Mitsui Chemicals, Inc. who developed the eyewear and Professor Handa of Kitasato University who supervised that, they talked a lot about the mechanism of the eyewear, the background to its development and how to enjoy watching baseball games in the future.
Kosaka:I was surprised how much easier it was to see the ball when I was playing catch earlier. What kind of performance do NeoContrast™ lenses have?
Professor Tomoya Handa (hereinafter "Handa"):There are various colors of light in the world. However, there are also some lights that serve as a nuisance when looking at things. Wearing this NeoContrast™ eyewear cuts light that becomes noise. This gives you clear vision without a feeling of glare.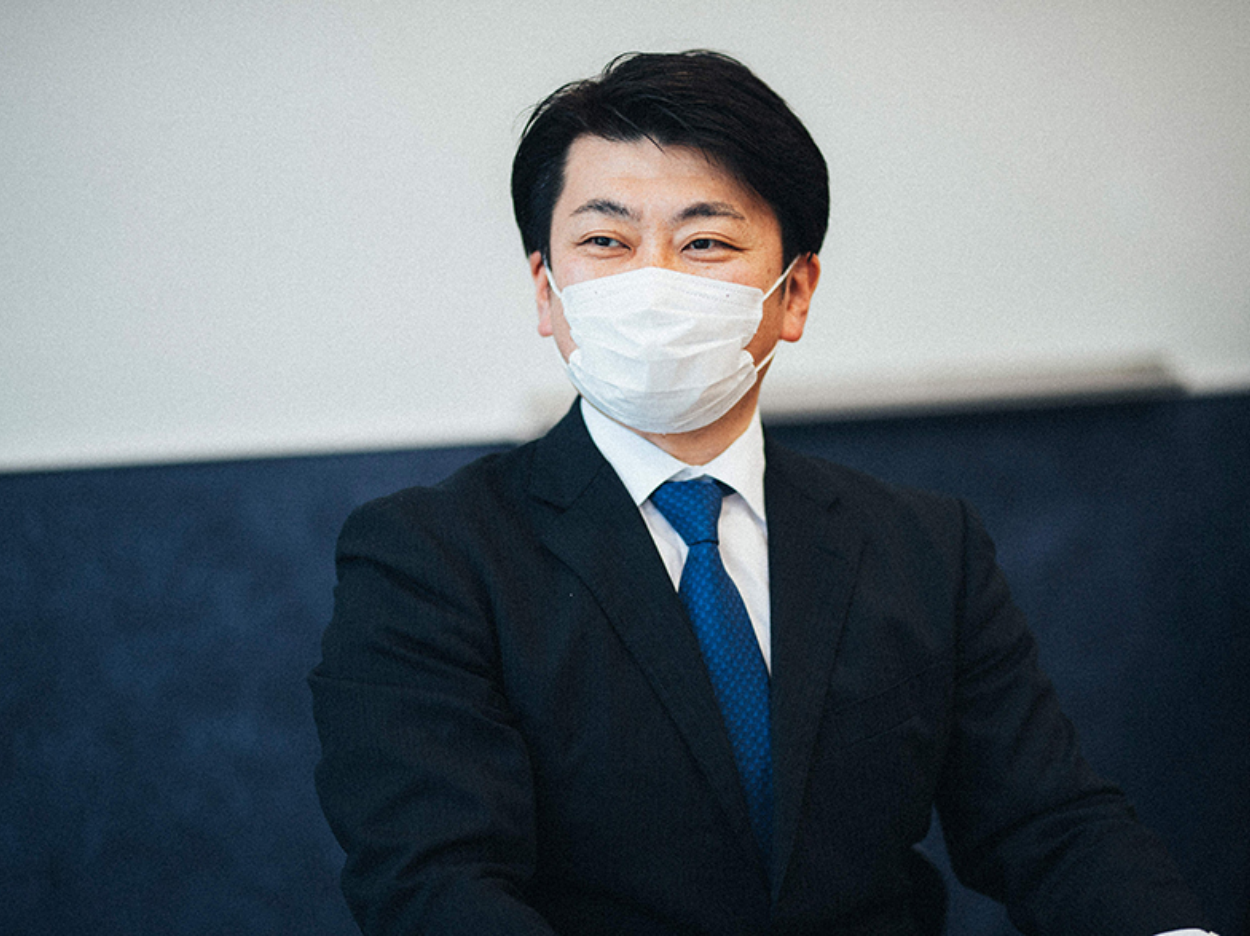 Kosaka:So, are they like sunglasses?
Yukihiro Kumamoto (hereinafter "Kumamoto"):No. Sunglasses are completely different. Typical sunglasses reduce all light evenly. However, NeoContrast™ selectively cuts only the yellow light that causes glare and makes it hard to see. This ensures the other colors stand out while suppressing glare. Therefore, you have vision with even clearer contrast.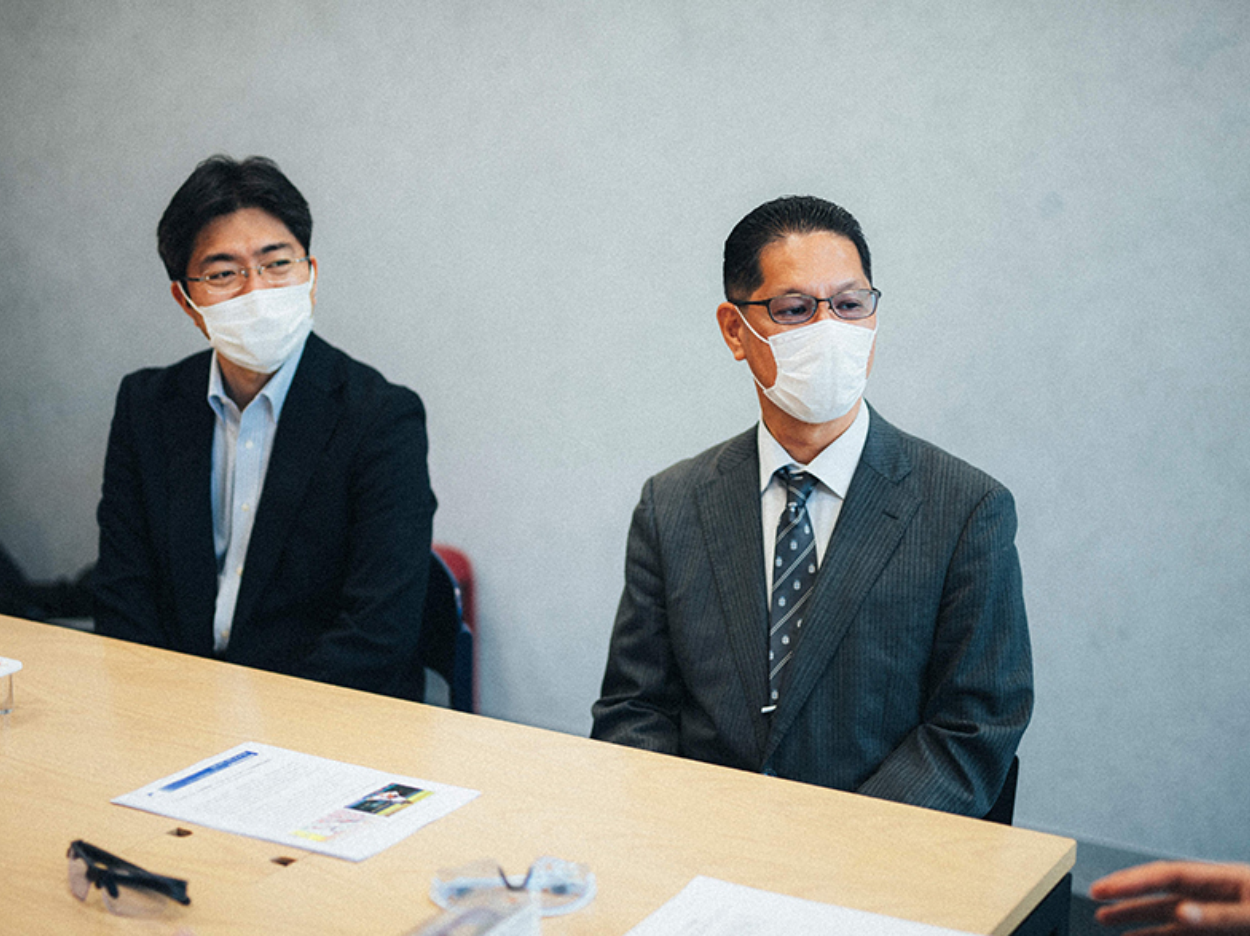 Kosaka:I see. Cutting the yellow light means that you can see white, black, red, green and other colors more clearly. It's kind of similar to music. Instead of turning up the volume of the guitarist when you want to hear the guitar playing, we make the guitar stand out by turning down the volume of the other instruments.
Handa:That's an interesting comparison (with laughter sound). Mr. Kosaka, would you like to wear the NeoContrast eyewear one more time? We have prepared a panel with an easy-to-understand color contrast. Please take a look at it again.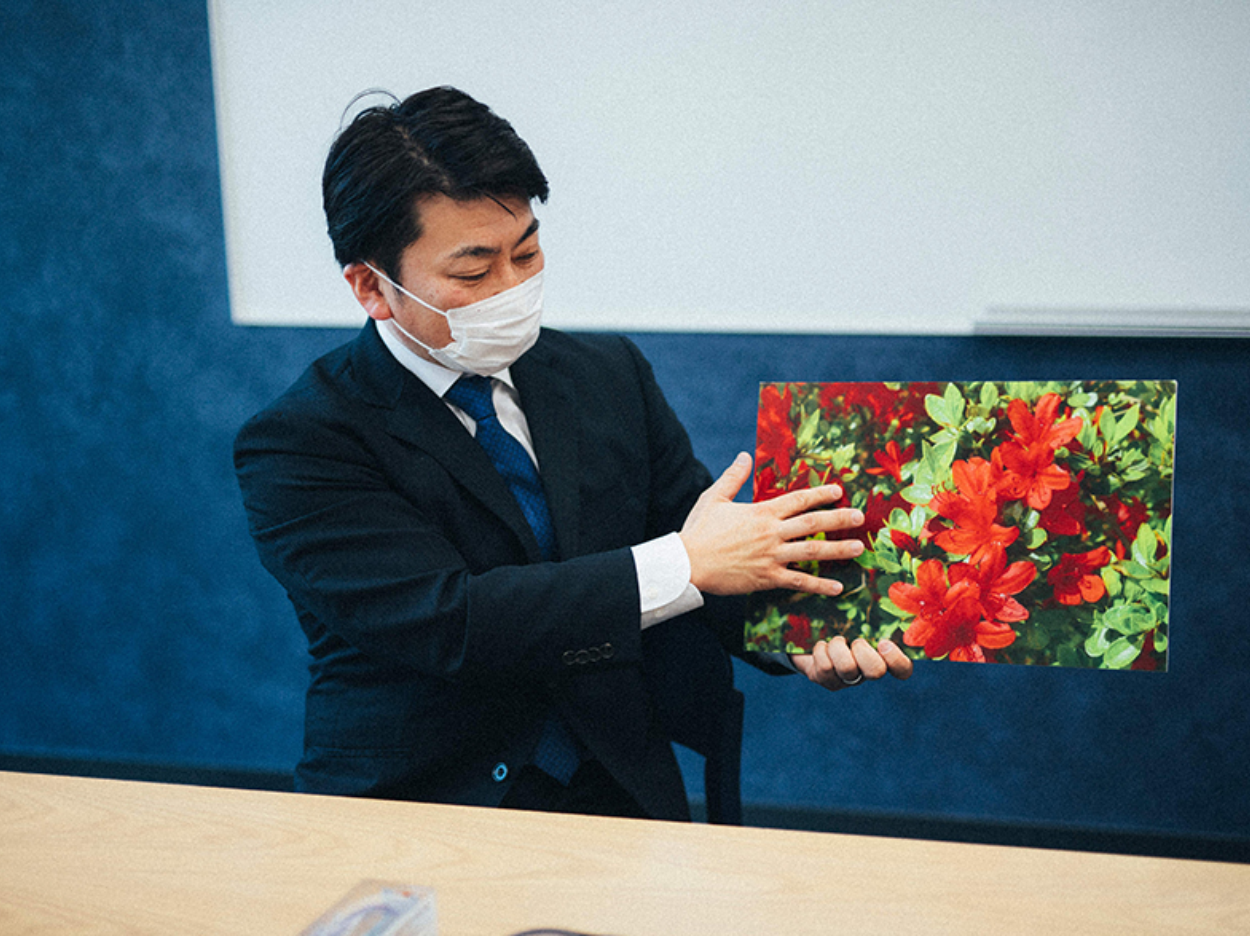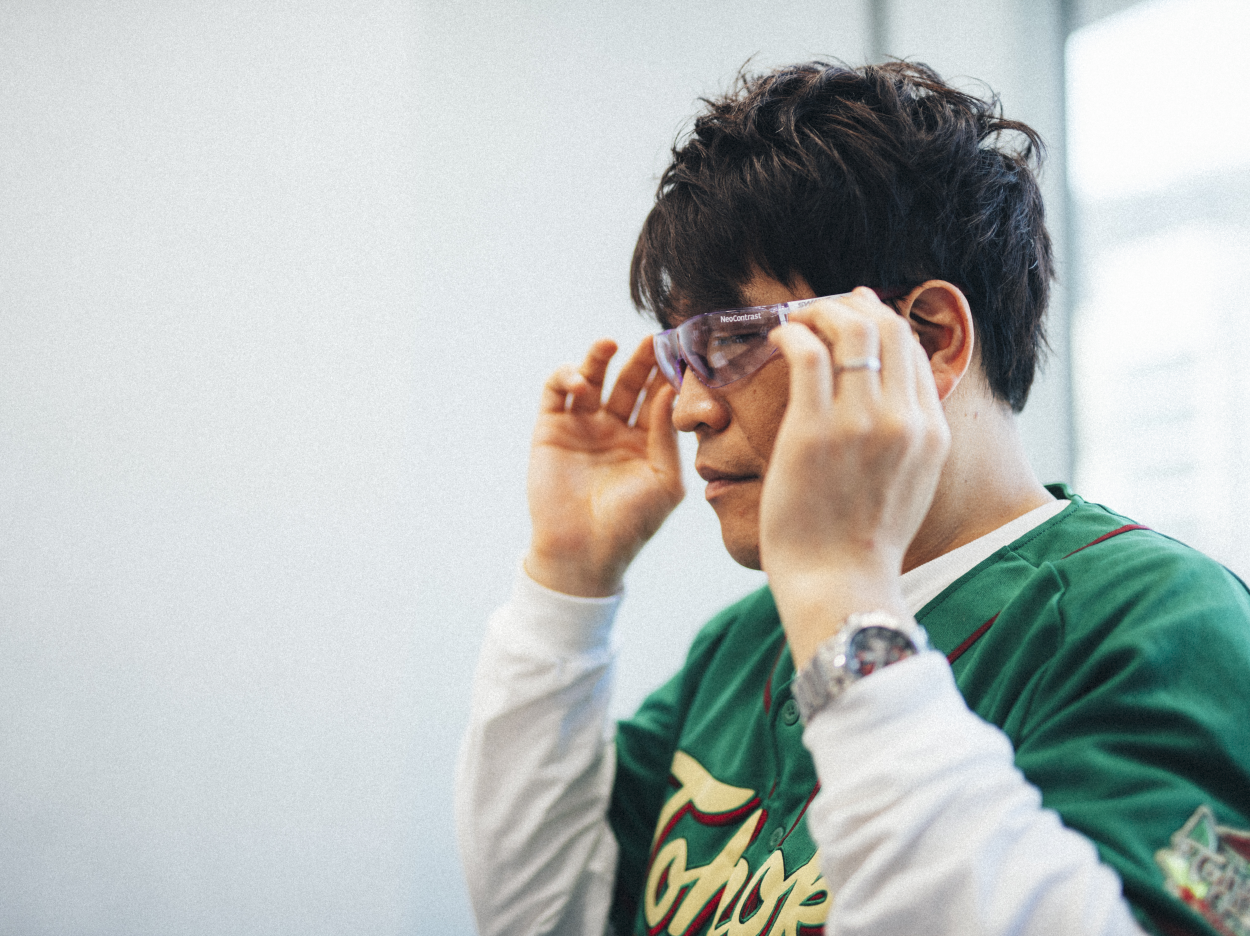 Kosaka:The red really stands out. It is so red it almost doesn't feel real (with laughter sound). It feels like the world is digitally processed just by putting on these eyeglasses. Wouldn't putting these on make even an old television look like a 4K model? It is expensive to buy a new television, but these only cost 5,940 yen, so it is good.
Kumamoto:We have also taken into consideration the price. We are now providing a special promotion price so that many people will learn about these lenses.
Handa:We also recommend these eyeglasses when you are driving a car in addition to watching sports. It gets dark and scary at night or when you enter a tunnel with sunglasses. The lights of oncoming vehicles are also dazzling.
However, these eyeglasses offer clear vision while reducing glare. Accordingly, you can clearly see oncoming vehicles and the white lines on roads. This is effective not only at night but also when you are driving at dusk with a reduced vision contrast and in regions where smog is likely to occur.
Kosaka:In fact, I was just looking for driving glasses or sunglasses. This sporty design is actually rather cool if you are driving. However, I would need a little courage to use them around town. To be honest, it would be a little difficult to go to somewhere like Matsuya (restaurants specializing in bowls of rice topped with beef) with these. People would think "why is he eating a beef rice bowl with sporty eyewear?" (with laughter sound).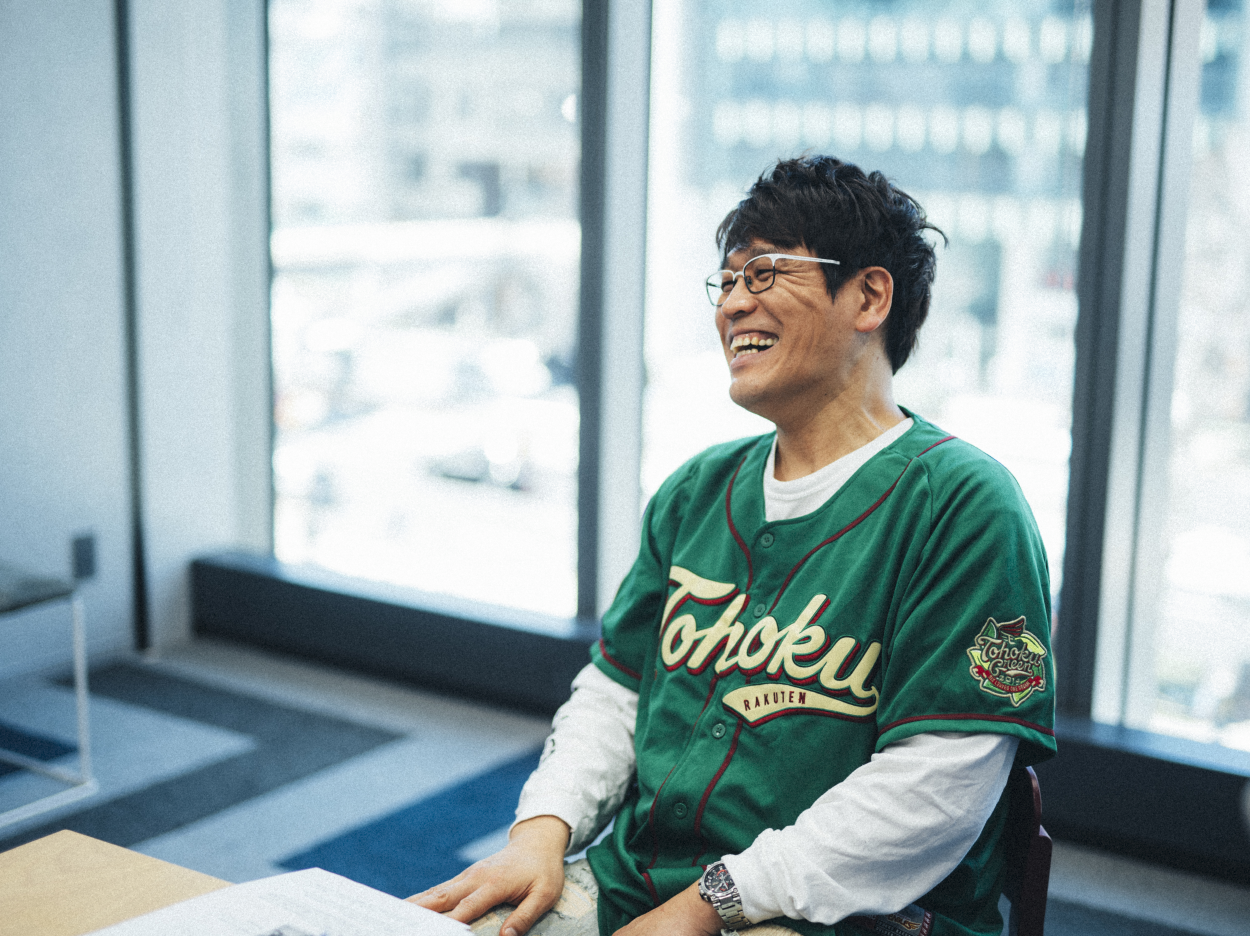 To assist professional baseball players. Created by gathering together people with knowledge and skills
Kosaka:How did you come up with this eyewear in the first place?
Kumamoto:We were originally researching eyeglass lenses. And, we had the technology to cut only specific wavelengths of light. The idea for this eyewear came when we were developing a lens material utilizing this technology and thought about the various ways in which we could apply it.
After that, HOPNIC LABORATORY Co.,Ltd, our customer and partner, developed eyeglass lenses that increased the color contrast and improved the quality of vision by excluding just the yellow wavelength with technology that selectively cuts specific wavelengths of light.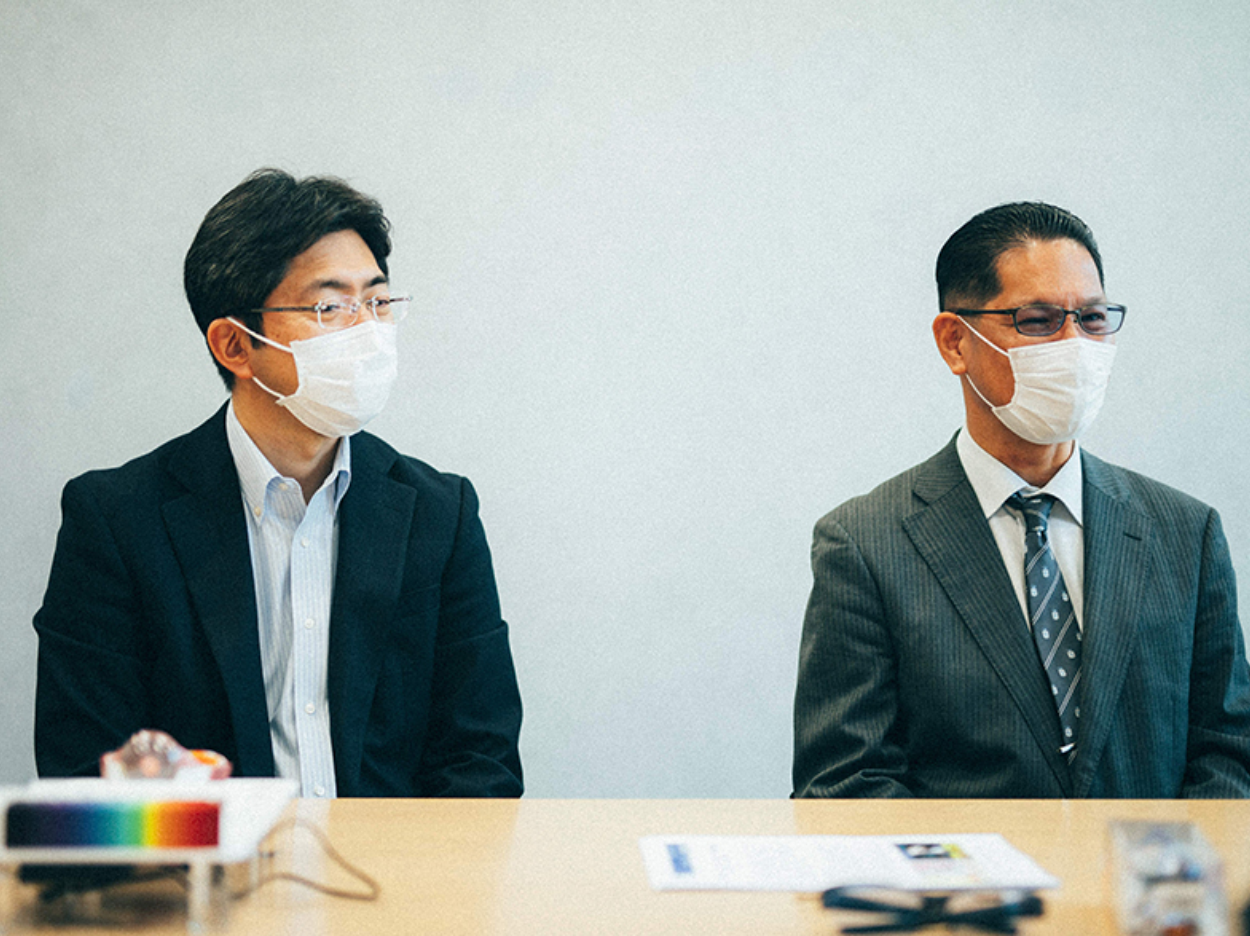 Kosaka:I am curious as to how that led to the realization of the Rakuten Eagles model.
Handa:I was originally working as a trainer concerning visual functions at the Rakuten Eagles. Players come to me with various concerns about their eyes. Many of those players said that their eyesight was a little blurry recently or that it was difficult to see fly balls because the night game lights were too bright. Accordingly, I searched for eyewear that could deal with those concerns.
I heard about NeoContrast™ from Mitsui Chemicals at that time. We decided to collaborate to make sports eyewear from there. We made repeated improvements while asking the players to try samples. This led to the completion of eyewear using NeoContrast™. We made the decision to sell that eyewear as the Rakuten Eagles model.
Kosaka:That's a nice story. You started with the desire to assist people with troubles and professional baseball players at first. As a result, you made a good product and then commercialized it for fans.
To be honest, I think people will have some doubts if you tell them that the scenery changes just by wearing eyeglasses. However, they will have confidence in you and want to give them a try if they understand the background in which you brought together people with knowledge and skills to assist professional baseball players. I think even fans of other teams will want to give them a try (with laughter sound).
It would be boring to watch YouTube in black and white. Color is an important element of enjoyment
Kosaka:Is there anyone else that you hope uses this eyewear?
Handa:Of course, regardless of age or gender, I personally would be happy if people with anxiety about eyesight and color identification could use it. t is possible to exaggerate colors you are not good at seeing by wearing NeoContrast™ eyewear. The contrast increases and difficult-to-see colors become easier to see.
In particular, there are many cases in which children who are worried about their eyesight and color discrimination perceive eyewear negatively. I think that it will be a great encouragement for such children to see the activities by professional baseball players wearing the same eyeglasses. I believe they would be delighted to be able to see the same scenery as their favorite players by wearing NeoContrast™ eyewear. We may even see children who decide not to give up on their aim of being a professional baseball player by wearing this eyewear.
Kosaka:Certainly. I had bad eyesight when I was a child. I tended to pull away from baseball for a certain time. I really sympathize with what you are saying. I was good at batting when I first started in the third grade of elementary school. Nevertheless, I stopped being able to hit anything as I suddenly lost my eyesight. I couldn't even catch the ball by the time I was in the first grade of junior high school. I gradually came to feel that I was worse at baseball than I had once been. Therefore, I also stopped participating in club activities.
However, when I tried putting on eyeglasses to play baseball after I became an adult, I found I was able to play normally. I believed that I had simply lost my skills when I was a child. Nevertheless, a major factor was the deterioration in my vision. Obviously, I couldn't catch or hit the ball without being able to see it. Thinking about that, it is certainly likely that there are boys and girls out there who will be helped by encountering this NeoContrast™ eyewear.
Kumamoto:That is precisely why I hope that NeoContrast™ also takes hold in other sports and various lifestyle situations in addition to baseball.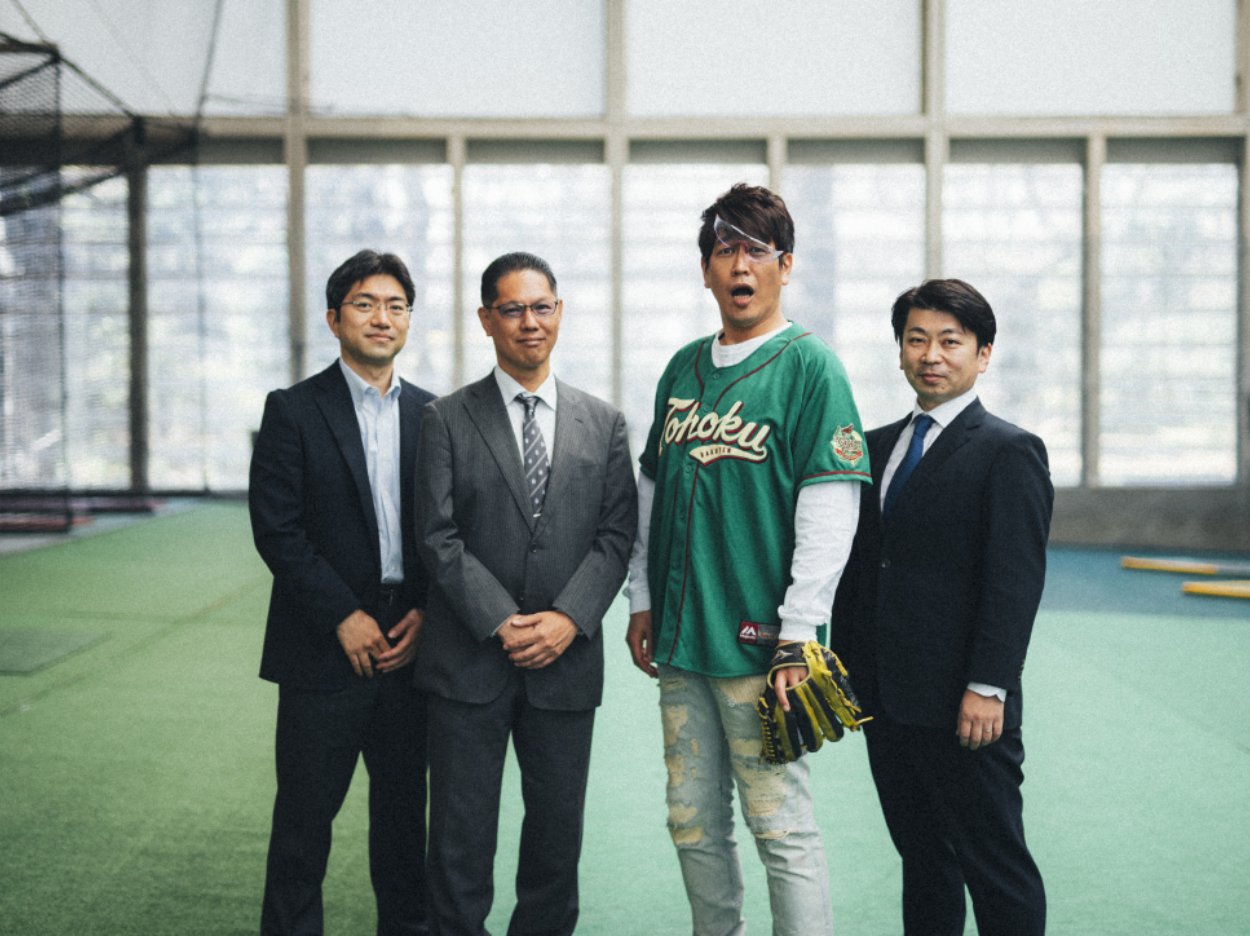 *This text is a translation of an interview on the MOLp site.
https://jp.mitsuichemicals.com/jp/molp/article/detail_20210419_1.htm
*1: NeoContrast™ is a trademark or registered trademark of HOPNIC LABORATORY Co.,Ltd and Mitsui Chemicals, Inc.
*2: There are individual differences in vision. There is no guarantee that everyone will feel they can see clearly or will find it easier to see things with this eyewear.
【Profile】
DAIMAO KOSAKA
Born on July 17, 1973 in Aomori Prefecture. Made his debut as a comedian as Sokonuke AIR-LINE in 1992. Appointed Cross-Cultural Communication Ambassador for the Ministry of Education, Culture, Sports, Science and Technology and INNOvation Promotion Ambassador for the Ministry of Internal Affairs and Communications in 2019. Appointed Advisor for UNEP Sustainability Action in 2021. Currently, he is active in a wide range of fields (e.g., appearances in variety and information programs, and involvement in talk sessions with the world's top artists and the music production / re-mix of famous artists).
Official website: https://avex.jp/kosaka/
Twitter: https://twitter.com/kosaka_daimaou
TOMOYA HANDA
Born on September 8, 1975. Completed the Department of Ophthalmology & Visual Science at Kitasato University Graduate School of Medical Sciences (Doctor of Medicine). Has served as a Professor for the Orthoptics and Visual Science Course in the Faculty of Health Sciences at Kitasato University. Conducts research activities that connect to various fields (e.g., refraction correction, visual function tests, video, lighting and vision training) under the motif of practical thinking to contribute to society with ophthalmic medical technology. The visual function tests and training equipment he has researched and developed is widely used in ophthalmic medicine.