for Mono-Material Packaging
In our world today, there is a growing plastic waste problem, and solving it is a major challenge. Plastic waste pollutes the marine ecosystem, and devastates ocean environments. All companies using plastic (resins) need to change the way they do business. That's where an important shift comes in - a change from the environmentally damaging business cycle of production-consumption-disposal to the sustainable cycle of production-consumption-collection-recycle. We promote material recycling that involves the re-use of plastic waste.
PE and PP mixes make up a large part of post-consumer flexible packaging wastes. For a sustainable circular economy, mono-PE and mono-PP structures contribute to improve quality of recycled materials.


TAFMER™ for widening
heat seal window
Compared to conventional packaging, in which polyester or nylon is used as a substrate layer and PE or PP is used as a sealant layer, the melting temperature gap for these layers becomes much narrower in mono-material packaging (mono-polypropylene or mono-polyethylene).
Adding TAFMER™ to the sealant layer drastically improves SIT of these films, securing the required melting temperature gap between the two layers.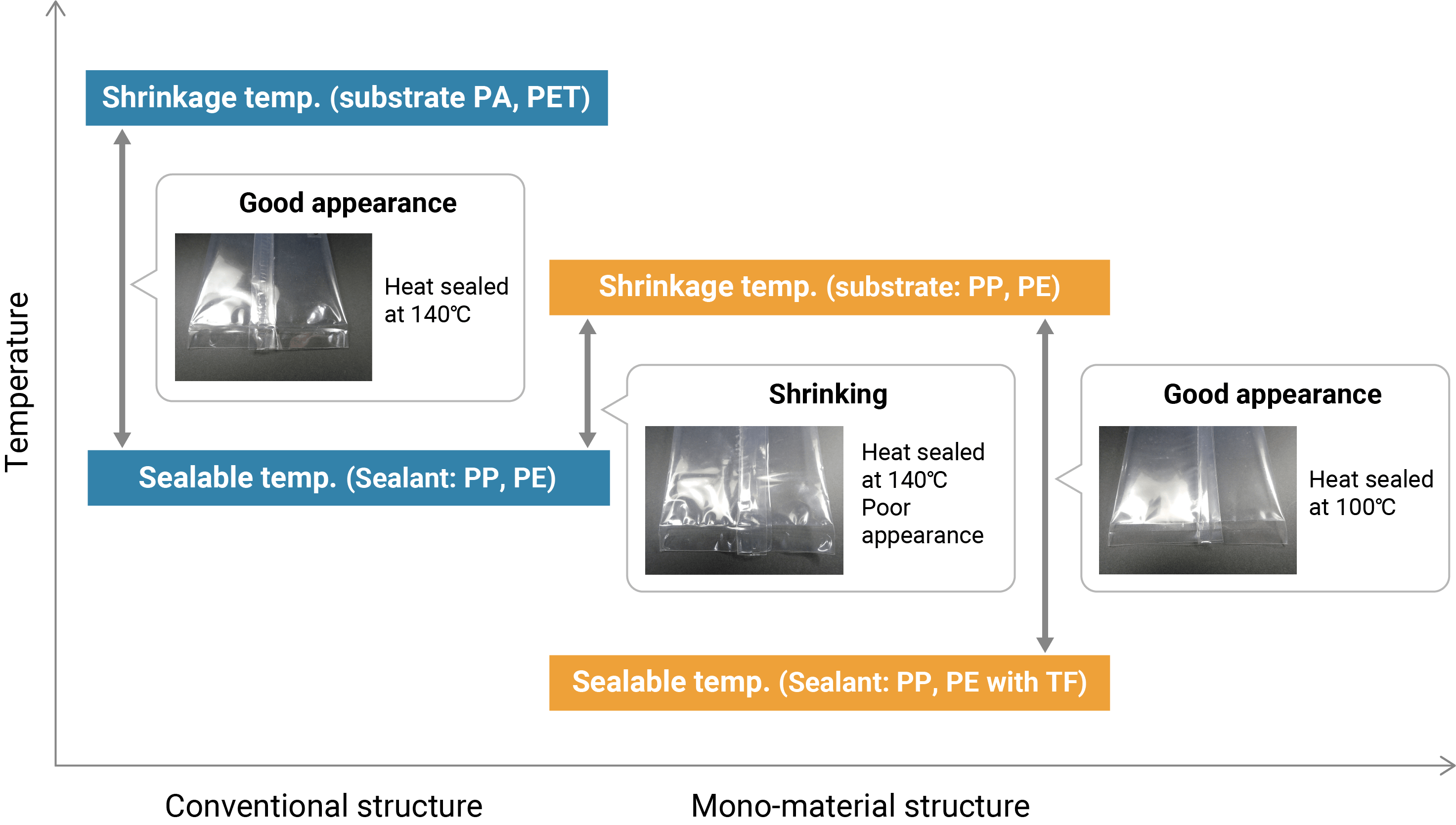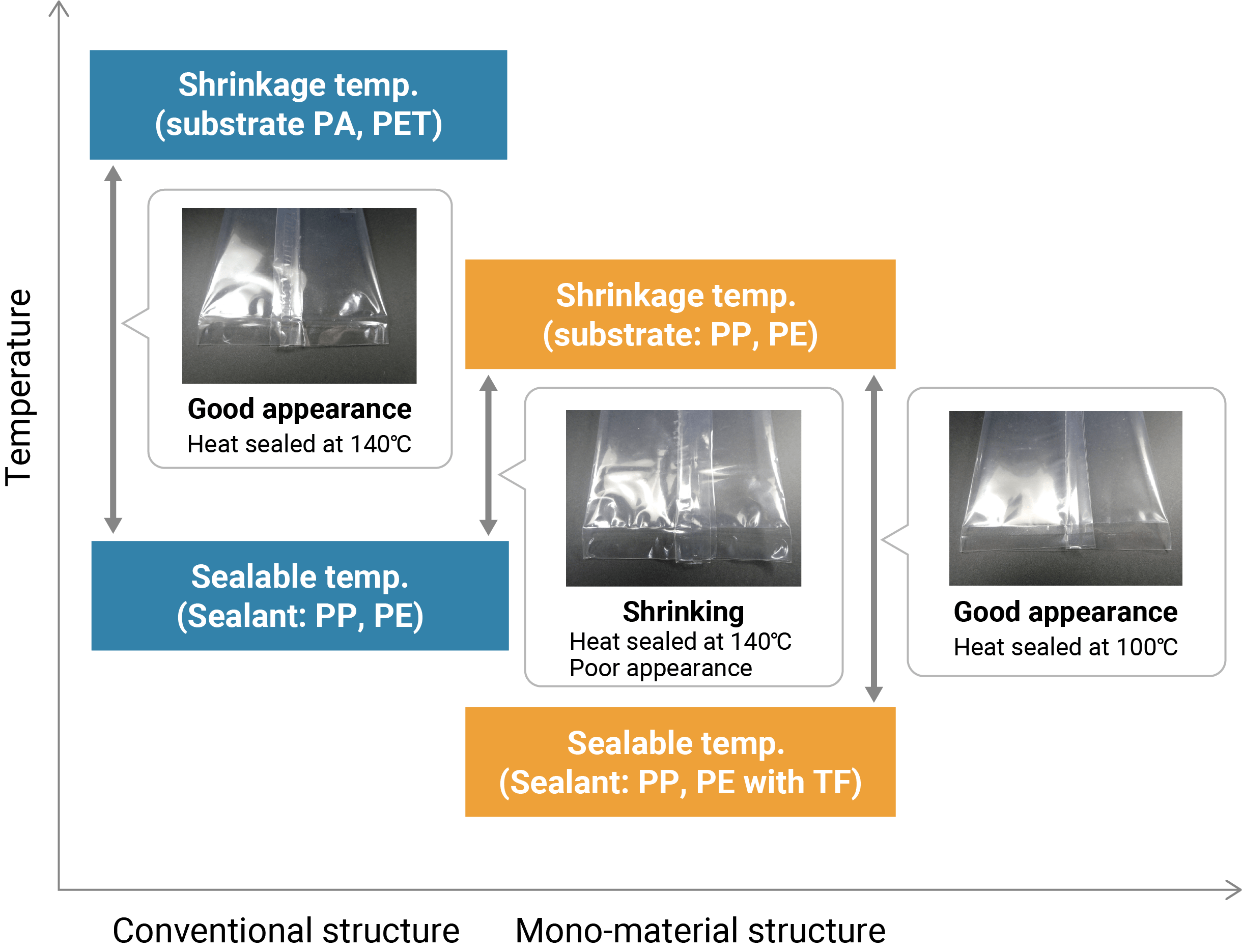 See details of TAFMER™ for packaging application
Characteristics
TAFMER™ polyolefin elastomer is a low-crystallinity alpha-olefin copolymer that features softness, low melting point, and compatibility with polyethylene (PE) and polypropylene (PP).
TAFMER™ for
packaging application
TAFMER™ helps packaging engineers customize Heat Seal Initiation Temperature (HSIT) of packaging films for high speed flexible packaging applications, maximize impact resistance to protect contents, and adjust sealing property for easy peel-ability.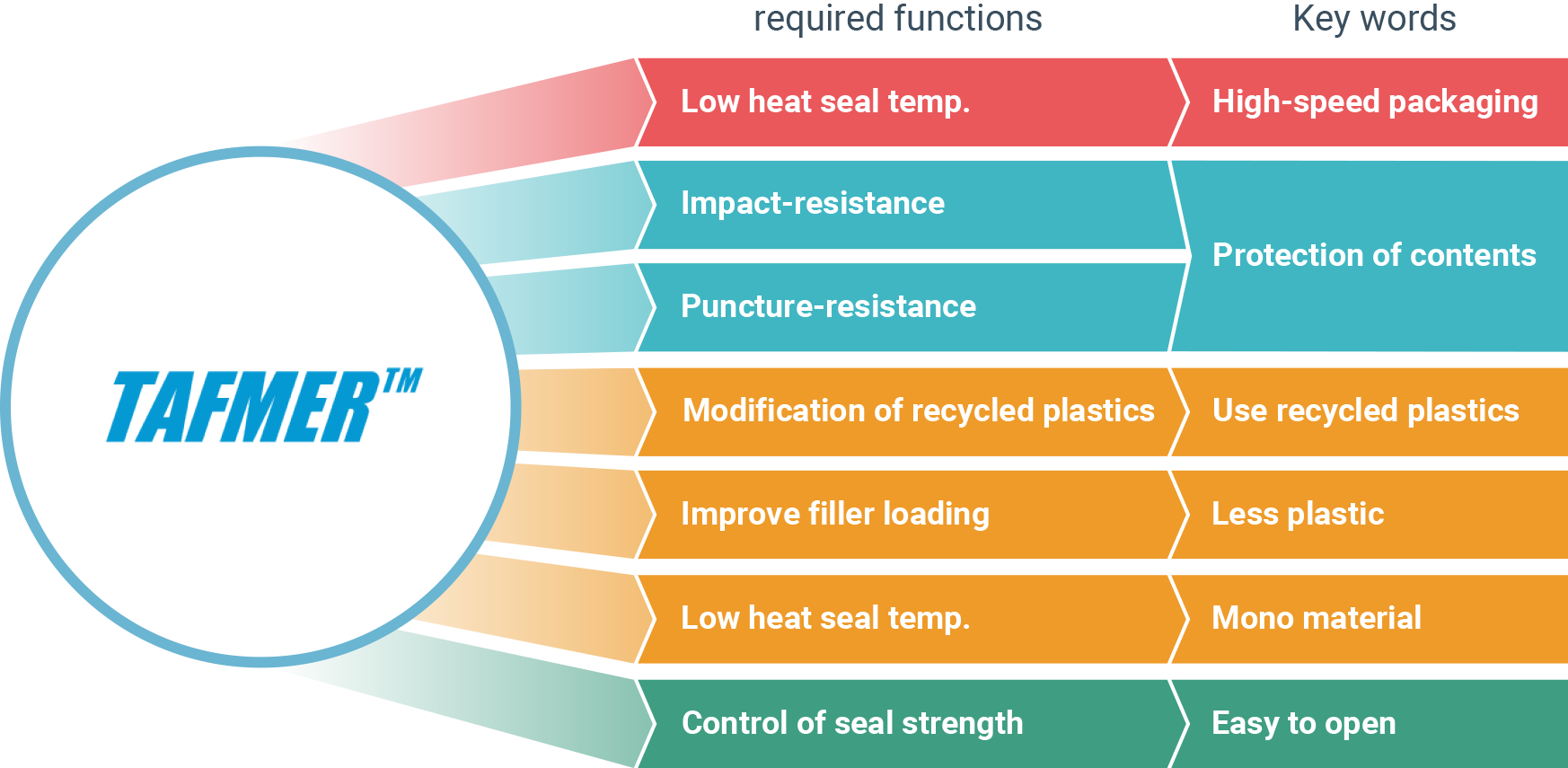 TAFMER™ enables the film engineer or package designer to:
Optimize Heat Seal Properties and Retain Transparency

Maximize Impact Resistance

Adjust Easy-Peel Properties
See detailed results and conditions
Improvement of appearance
after heat-sealing
A conventional structure of BOPET/CPP provides good appearance with no significant shrinkage after heat sealing.

Replacing BOPET with BOPP in the substrate, however, leads to poor appearance due to the lower heat resistance of BOPP. Lowering SIT(seal initiation temperature) is a key factor for better appearance of mono-material packaging.
All-PP structure with typical CPP

Heat sealed at 100℃
Not sealable

Heat sealed at 140℃
Poor appearance
TAFMER™ for PP sealant
Lowering the SIT of cast PP films or increasing seal strength of BOPP film secures a wider melting temperature gap between the sealant and substrate layers.
- TAFMER™ BL is a 1-butene based copolymer which is highly compatible with PP.
- TAFMER™ BL significantly lowers and widens the range of HSIT.
- TAFMER™ XM is a propylene based copolymer which is miscible in PP.
- Low SIT can be achieved by blending TAFMER™ XM with PP.
- TAFMER™ PN is a propylene based material with remarkably high heat resistance in spite of its softness.
- TAFMER™ PN is miscible with PP and has an ability to improve seal strength of BOPP film.
- A target seal strength of 8 – 15 N/15mm can be achieved by adding TAFMER™ XM to the sealant layer, and adding TAFMER™ PN to the neighboring layer.
TAFMER™ for PE sealant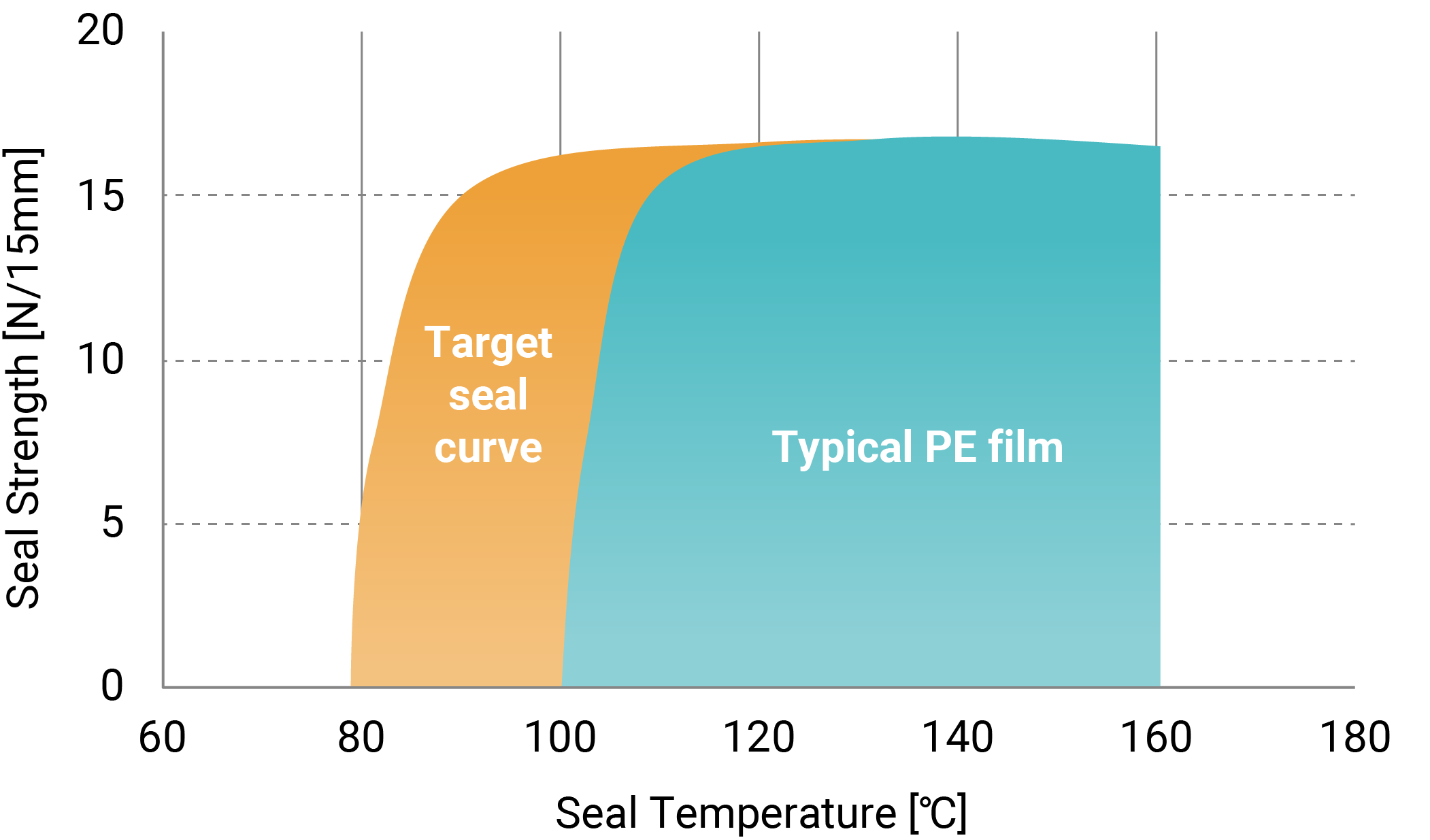 - TAFMER™ A is an ethylene based copolymer which is miscible in LLDPE.
- A target SIT < 100 ℃ can be achieved by blending TAFMER™ A with LLDPE.