Outline
Positioning of VISION 2030
Engage in significant environmental changes and establish
a new growth strategy toward the year 2030
In view of the progress under VISION 2025 and the change in internal and external environments, the Group has developed a new longterm business plan with 2030 as its target year.
In Vision 2030, we have revised our "Corporate Targets" for the next 15 to 20 years and defined "Our Ideal Vision for 2030", which sets out the direction in which the Mitsui Chemicals Group is aiming.
Ideal Future Society and Materiality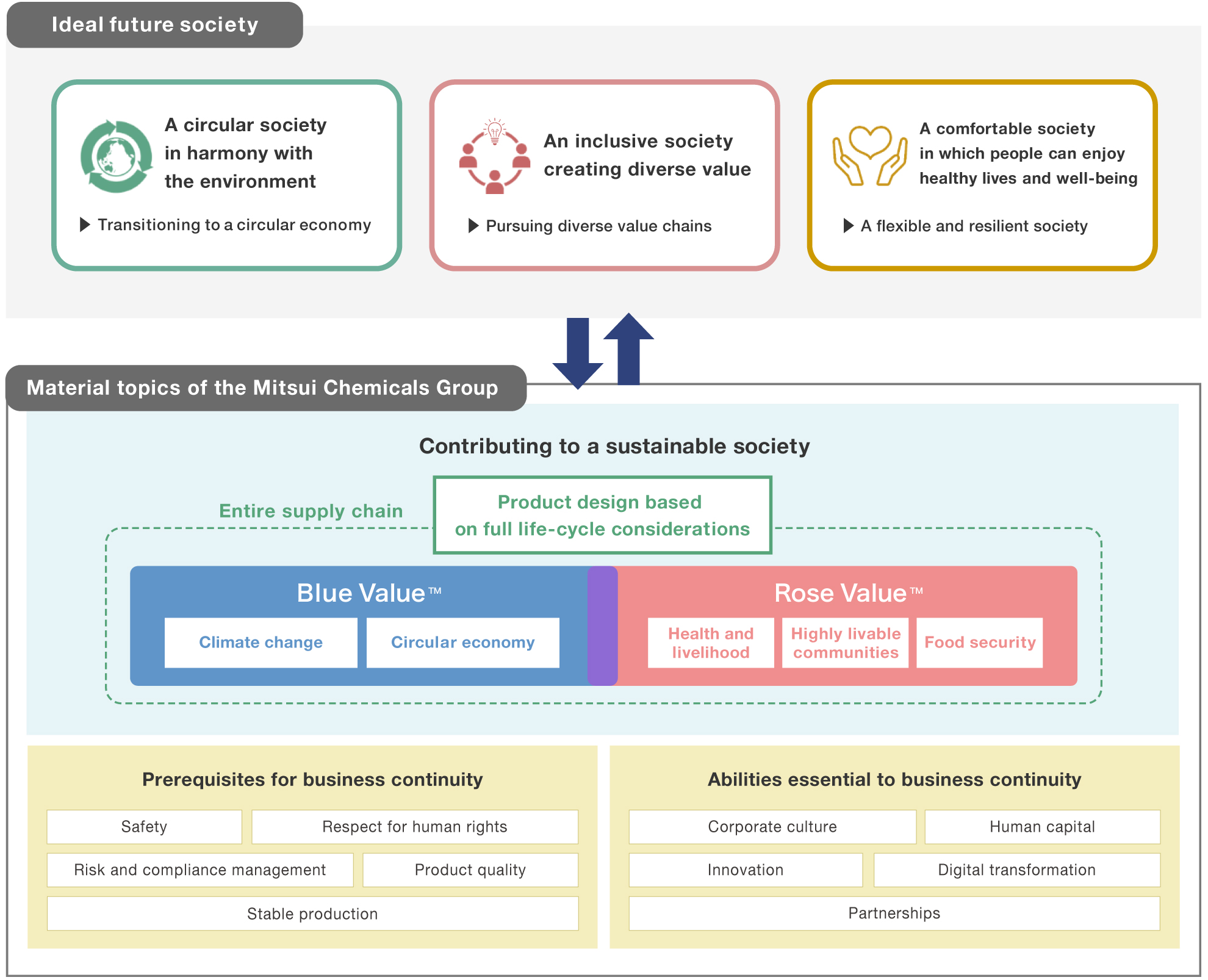 Our Ideal Vision for 2030
Chemistry for Sustainable World
A global solutions company that leads change
and contributes to a sustainable future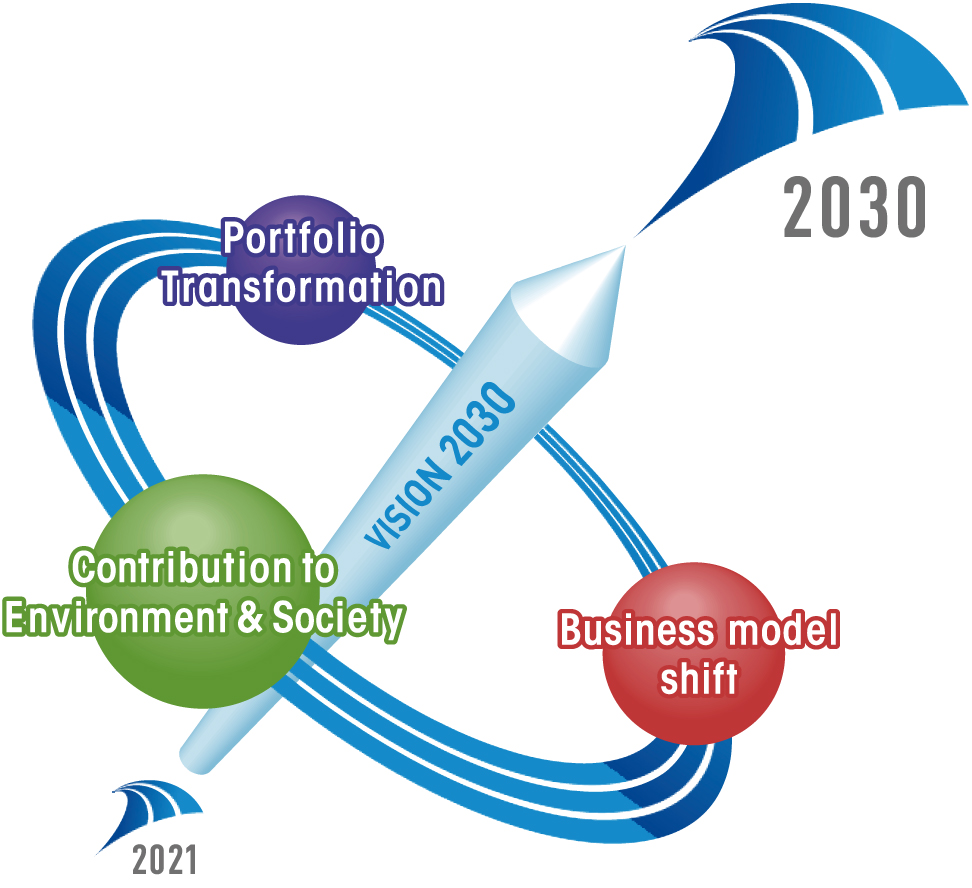 Group-wide Basic Strategy under VISION 2030
To succeed with our management priorities, our ideal vision for 2030 and our more long-term Corporate Target, the Mitsui Chemicals Group will, on a Group-wide level, pursue the following five basic strategies:
Basic Strategy
VISION 2030 Basic Strategy
Pursuing business portfolio transformation
● Rolling out a social issue perspective in all of our businesses
● Achieving growth by expanding and fleshing out our business domains
● Accelerating structural reform of our existing businesses and transforming businesses with a focus on green materials
Building solutions-based business models
● Creating new businesses by bolstering our business design capabilities
● Pursuing cross-organizational ties and strengthening cross-company partnerships
Bolstering circular economy initiatives
● Building CE-oriented business models for all of our businesses
● Rolling out CE-compatible products by transitioning to alternative raw materials and fuels
● Developing and acquiring foundational technologies able to contribute to carbon neutrality
Corporate transformation through DX
● Applying DX throughout our entire Group and all business domains
● Creating value by way of business-wide transformation spanning research, production, sales and SCs
Management and business transformation
● Popularizing a committed, eager attitude
● Improving engagement to bolster our organizational strength and transform our corporate culture
● Combining safe, secure operations with improved competitiveness at all our bases around the world
● Building sustainable SCs
Revision of our Business Portfolio through the Business Model Transformation

Shift to a business based on a perspective encompassing social issues which enables us to create value by thinking about the issues faced by society and our customers. In addition, we will push the DX to all of our businesses to accelerate our evolution to new business models.
Discover issues beyond the customer and create value through internal and external collaboration.
We will broaden our perspective beyond our customer-first principles according to which we have provided products and services matched with customers' needs and think about the ideal forms of business from the broader perspective of social issues to create highly valuable solutions unique to the Mitsui Chemicals Group. We will combine internal and external technologies and knowledge in many ways, including through internal collaboration, open innovation and alliances with outside parties, to expand business opportunities.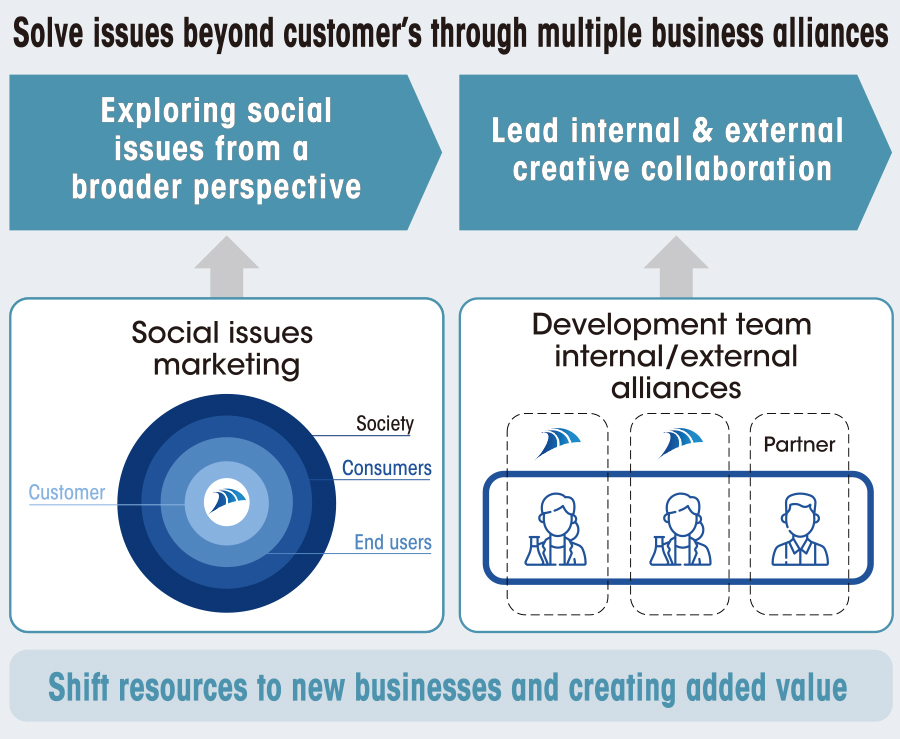 From "producing and selling" to "a design business"
We will advance our conventional business providing materials while working to create solutions that lead to the resolution of social issues. We will shift from the concept of producing and selling goods to a perspective focusing on an independent design business and the creation of new solutions that are not confined to tangible goods. In view of possible collaborations with all kinds of business, we will construct a business model that helps create value.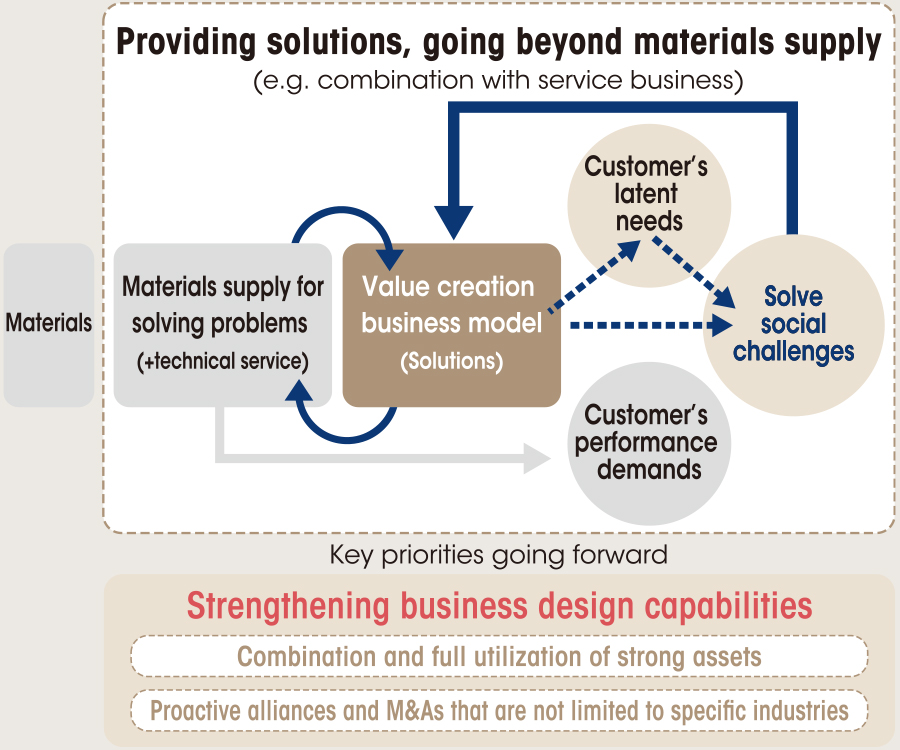 Build a circular supply chain
Following the social shift from mass production and consumption to circular services such as subscriptions and sharing, we will work to switch from the one-way business model in which we simply produce and sell goods to design products and create businesses in consideration of a circular economy in which goods are reused after use. We will act groupwide to achieve a circular economy.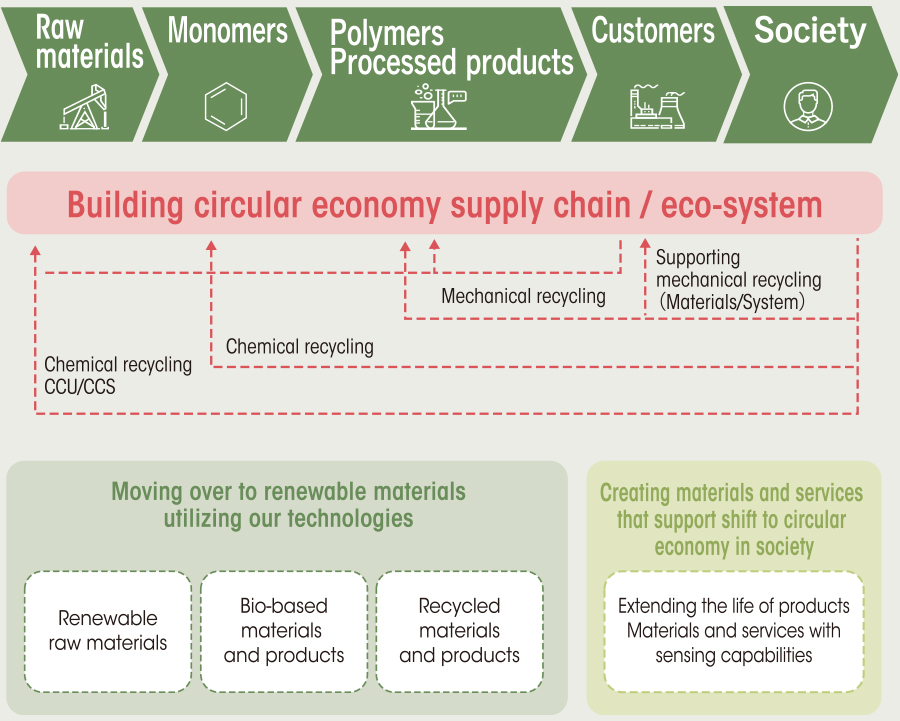 Accelerate DX to achieve corporate transformation (CX)
DX is essential for the transformation of business. We will ensure that all staff have a basic knowledge of DX and appoint DX champions with advanced expertise within individual departments to swiftly disseminate expertise and accelerate the DX throughout the Group. We will transform our business styles and business models. We will endeavor to finally achieve corporate transformation (CX).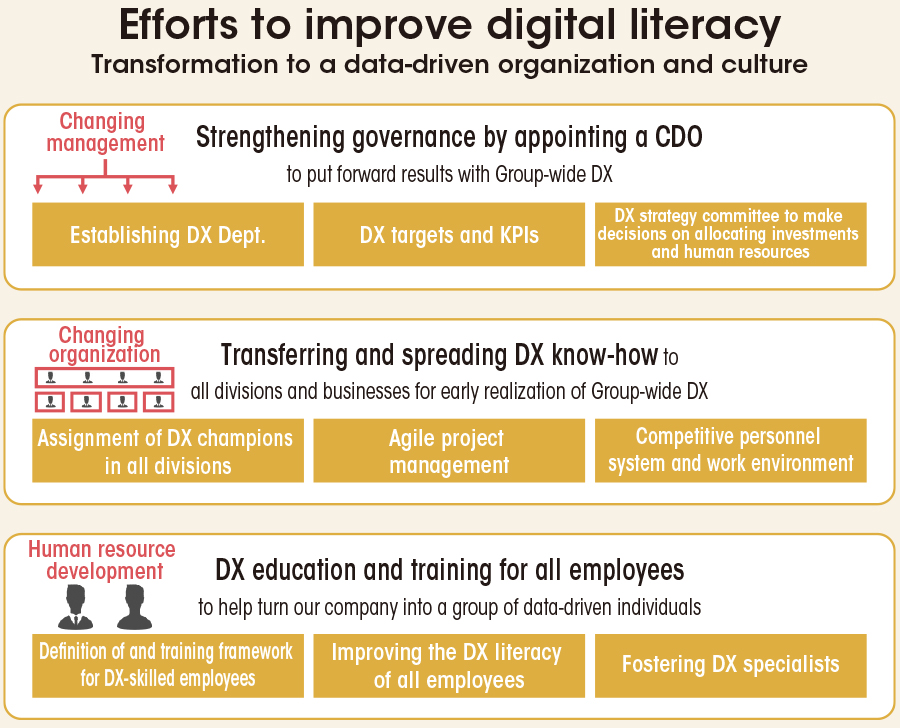 Business portfolio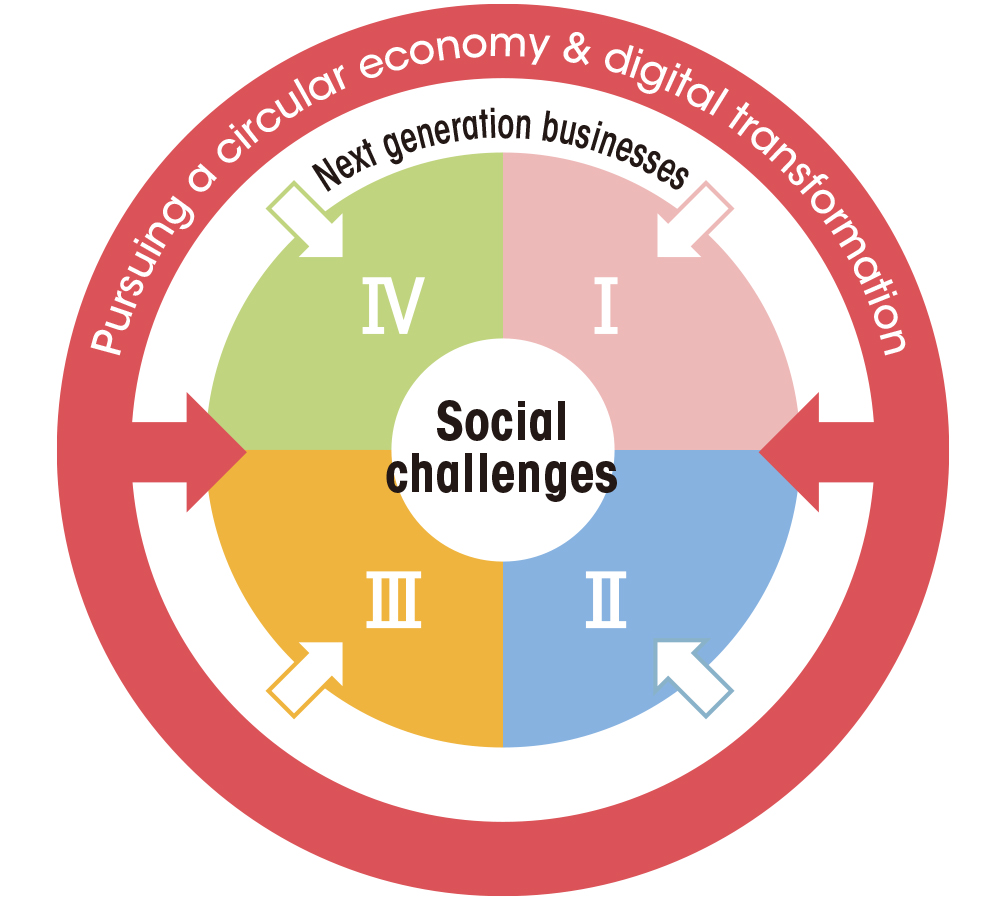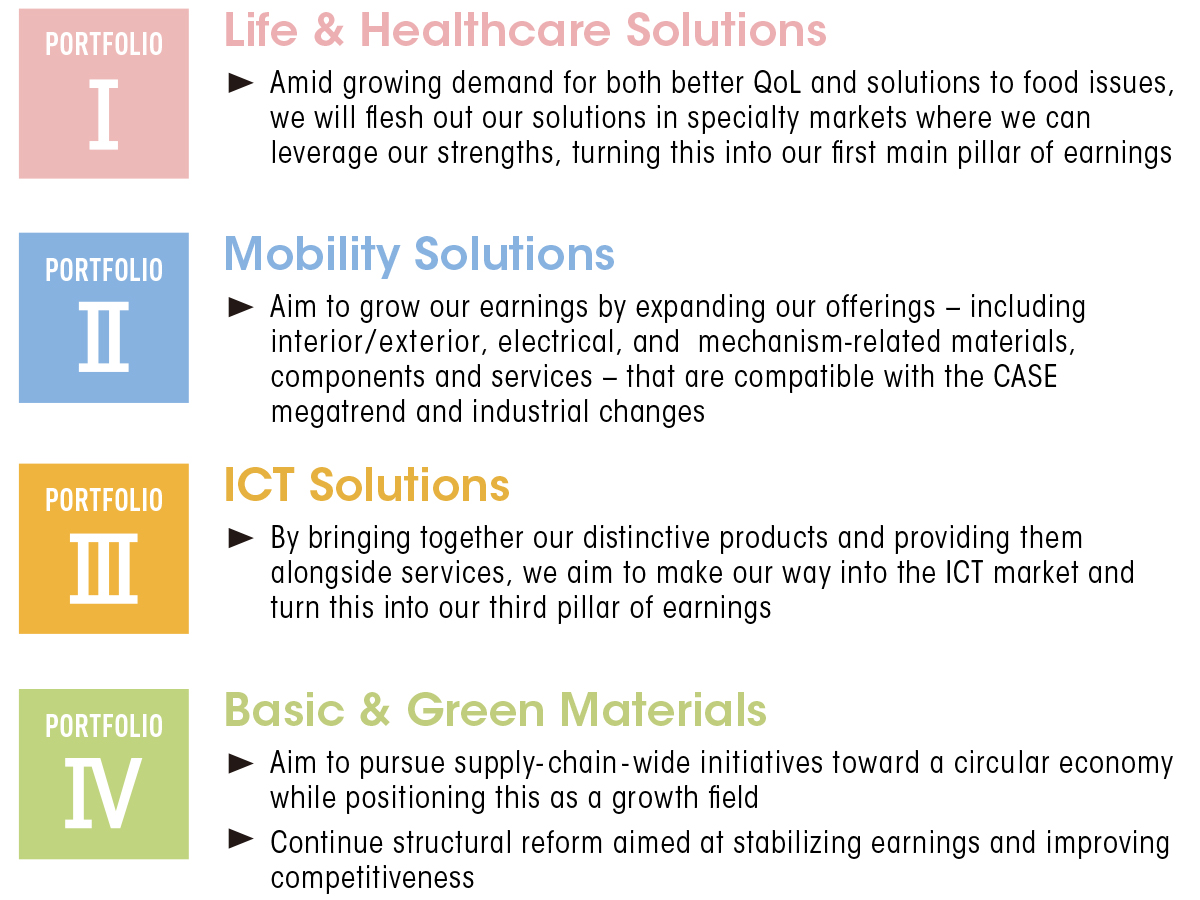 Business Targets / Investment Plan
VISION 2030 Business Targets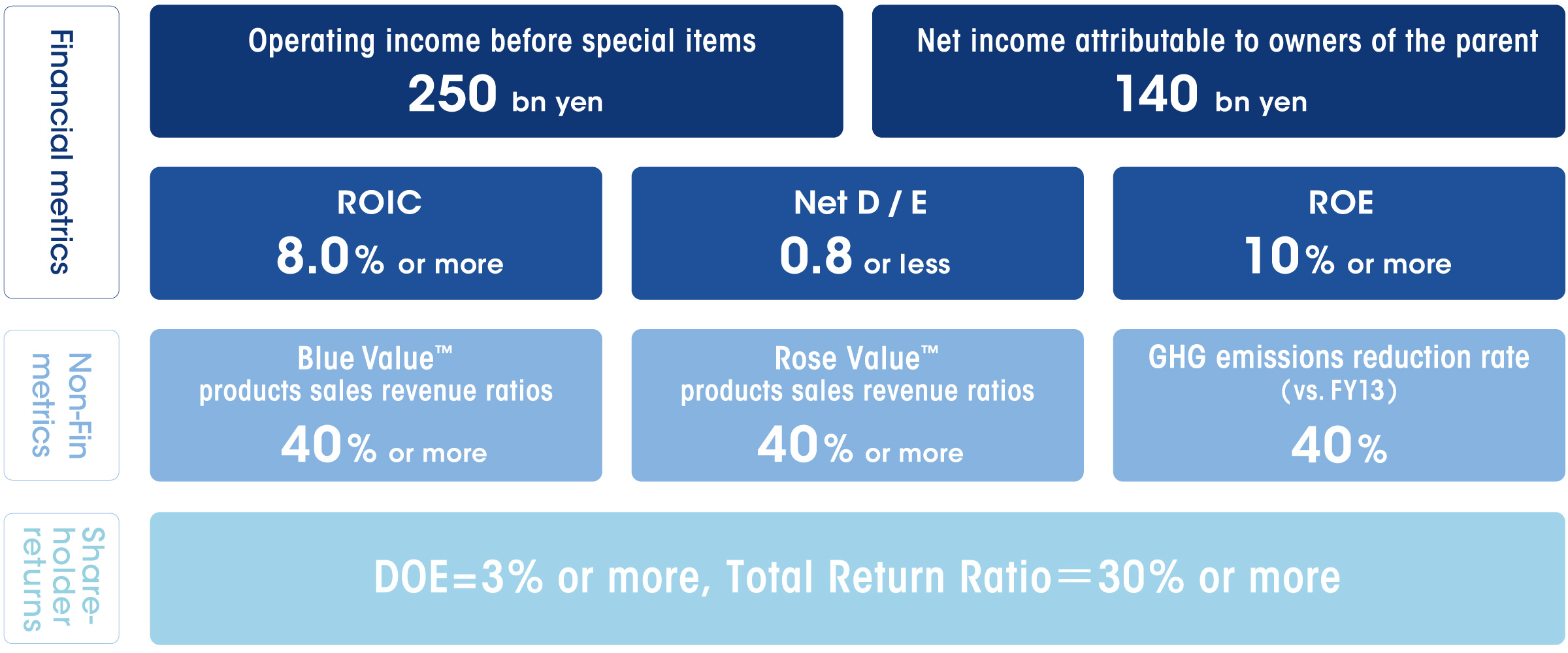 VISION 2030 Investment Resource Allocation