Introduction of TAFMER™
Features
TAFMER™ is a low crystalline or amorphous α-olefin copolymer based on Mitsui Chemicals' proprietary technology, using its state-of-the-art know-how in polyolefin and rubber materials.
TAFMER™ has lower density, lower modulus, and lower melting point, compared to polyethylene(PE) or polypropylene(PP).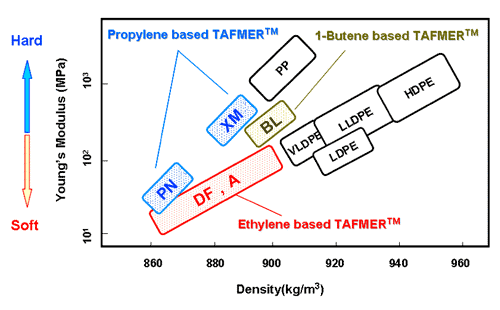 Uses
TAFMER™ has wide applications in automotive, industrial, and packaging materials.
(a) As a Modifier
TAFMER™ can be easily blended with PE, PP, and other thermoplastics to improve or enhance their characteristics.
(b) As a Base Material
TAFMER™ can be used as a base material in flexible products.
Mitsui Chemicals offers a wide range of products to accommodate various needs.
TAFMER™ can be processed by various types of methods such as cast & blown film extrusion coating, pipe extrusion, injection molding, blow molding, foaming, and calendering.