Key Raw Materials from New Feedstocks – A Novel Catalyst for Aromatics Production from Methane
August 14, 2008
Agency for Science, Technology and Research
Mitsui Chemicals, Inc.
The Agency for Science, Technology and Research, ("A*STAR"), and Mitsui Chemicals, Inc., ("MCI"), today announced that they have successfully developed a zeolite-based catalyst that can produce benzene and hydrogen from methane. Methane is the principal component of natural gas and can also be made from biomass. The new catalyst exhibits a high selectivity of more than 90% and the conversion of methane is close to the value that is currently believed to be the theoretical conversion. Furthermore, it can also maintain its high performance for a long period of time.
Benzene is a major raw material for MCI's basic chemical products, such as phenol and bisphenol-A, and is almost entirely manufactured from crude oil. Hydrogen is attracting considerable public attention as a promising clean fuel to address global environmental issues.
The new catalyst will enable the manufacture of useful chemicals from methane which is currently mainly used as a fuel. It will also enhance the company's competitiveness to deal with high crude oil prices and unpredictable supply.
This achievement is the result of collaborative research between the Institute of Chemical and Engineering Sciences, (ICES), a research institute of A*STAR, and Mitsui Chemicals Asia Pacific Technical Centre in Singapore, MCI's first overseas R&D base.
Together they will continue to improve the catalyst still further through the integration of ICES' cutting-edge technologies in catalyst preparation and analysis and MCI's strengths in zeolite catalyst technologies and process technologies. They will also develop systems for the regeneration and recycle of the catalyst and, in parallel, will push forward the development of processes using the catalyst toward commercial viability.
Catalyst Development for Aromatics Production from Methane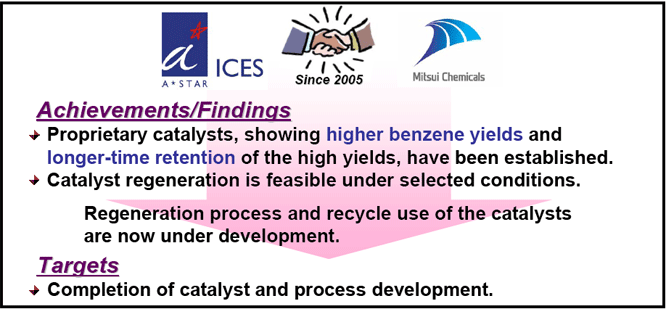 Contact persons:
A*STAR
Jimmy Lim
Assistant Head
Corporate Communications
Phone no. : (65) 68266 344
Fax: (65) 6478 9593
Email: Jimmy_LIM@a-star.edu.sg
Mitsui Chemicals, Inc.
Makoto Yamasaki
General Manager,
CSR & Corporate Communications Div.
Phone no.: [+81] (3)6253-2100
Fax no.: [+81] (3)6253-4245
Email: web_master@mitsui-chem.co.jp
Mitsui Chemicals Asia Pacific, Ltd.
Legal & General Affairs Div.
Phone no. [+65] 6534-2611
Fax no. [+65] 6535-5161
About the Agency for Science, Technology and Research (A*STAR)
A*STAR is Singapore's lead agency for fostering world-class scientific research and talent for a vibrant knowledge-based Singapore. A*STAR actively nurtures public sector research and development in Biomedical Sciences, Physical Sciences and Engineering, with a particular focus on fields essential to Singapore's manufacturing industry and new growth industries. It oversees 19 research institutes and consortia and supports extramural research with the universities, hospital research centres and other local and international partners. At the heart of this knowledge intensive work is human capital. Top local and international scientific talent drive knowledge creation at A*STAR research institutes. The Agency also sends scholars for undergraduate, graduate and post-doctoral training in the best universities, a reflection of the high priority A*STAR places on nurturing the next generation of scientific talent.
For more information about A*STAR, please visit www.a-star.edu.sg.
About Mitsui Chemicals
Mitsui Chemicals aspires to be a "Chemistry, Innovation, Dreams" driven Mitsui Chemicals which is constantly pursuing innovation and materializing dreams with the wonder of chemistry, and making an all-out and company wide effort to achieve this end. With aggressive business deployment in the Performance Materials, Advanced Chemicals and Basic Chemicals business fields, Mitsui Chemicals' main products have successfully shown the presence in their targeting markets (Japan, Asia, World). Mitsui Chemicals has approximately 13,000 employees around the world, and posted sales of 1,786.7 billion yen in fiscal 2007.
Mitsui Chemicals shares are traded on the Tokyo Stock Exchange in Japan.
Further information on Mitsui Chemicals is available on the Internet at https://jp.mitsuichemicals.com
---
Attachment
Key Raw Materials from New Feedstocks – A Novel Catalyst for Aromatics Production from Methane(PDF:133KB)