Limited Liability Partnership (LLP) for Joint Operation of
Ethylene Complex in Chiba-Area
April 1, 2010
Idemitsu Kosan Co., Ltd.
Mitsui Chemicals, Inc.
Idemitsu Kosan Co., Ltd. (hereinafter "IKC") with its Head Office in Tokyo (President : Kazuhisa Nakano) and Mitsui Chemicals, Inc. (hereinafter "MCI") with its Head office in Tokyo (President & CEO : Toshikazu Tanaka) announced today the establishment of a Limited Liability Partnership (LLP) based on a May 11th 2009 agreement between the two companies to study joint operation and production optimization of their facilities in Chiba, Japan.
1. Outline of LLP
Item
Details
Name
Chiba Chemicals Manufacturing LLP
Operation Area



Joint operation of ethylene complex in Chiba
Manufacturing of ethylene, propylene, and by-products
Supply of products to IKC and MCI

Role & Operation



Efforts to minimize costs of ethylene, propylene, and other petrochemical materials
LLP will serve as a cost center for production

Head Office
Marunouchi 3-1-1 Chiyoda-ku, Tokyo (within IKC Head Office)
Capital Contribution



Capital : 200 million yen
Contribution : Equal investment joint venture

Ethylene Production Capacity
920,000 tons per annum (IKC: 370,000 tons / MCI 550,000 tons)
Responsible Corporate Officers



Akiro Nishiyori (Managing Director, IKC)
Shigeru Iwabuchi (Senior Managing Executive Officer, MCI)
2. Background
The petrochemical industry is seeing increased competition in Asia from the newly established large-scale petrochemical plants mainly in the Middle East and China and from improvement of local supply-demand balance in petrochemical products in countries with growing markets.
The strengthening of international competitiveness in a global market plagued by financial crisis, which has also impacted domestic demand, is a top priority for the Japanese petrochemical industry. To reinforce their competitive edge, IKC and MCI agreed to the transfer of their ethylene complexes to the LLP to combine operations and management.
The two companies will intensify collaboration to create synergistic effects of raw material options, production optimization, and added value components to form an ethylene center with top level of competitiveness in Japan.
3. Developments
IKC and MCI will continue to pursue collaboration possibilities beyond the current joint operation of ethylene facilities including production optimization of refineries and intensification of the rationalization effects.
【Reference on Limited Liability Partnerships (LLP)】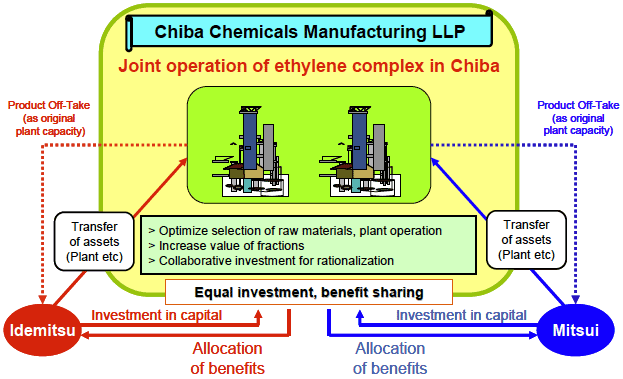 LLP was introduced in 2005 to promote collaborative operations and joint ventures.
Features of LLP versus stock company
| Category | Stock company | LLP |
| --- | --- | --- |
| Legal Status | Corporate status | Non-corporate status |
| Liability | Limited | Limited |
| Taxation | Corporate Tax | Pass-Through Taxation |
| Governance | Shareholders, Board of Directors | Subject to agreement of partners |
*

The LLP (Chiba Chemicals Manufacturing LLP) formed by IKC and MCI today is the first case in Japan which involves the operation of a large scale production facility.
Outline of IKC and MCI refinery, plant, and works
(1) Idemitsu Kosan Co., Ltd. Chiba Refinery

Location: 2-1 Anesaki Kaigan, Ichihara-shi, Chiba
Refinery manager: Kiyotsugu Suita
Site area: About 2.7 million m2
Date of start-up: January 1963
Crude processing capacity: 220,000 BD
Major products: Petroleum products and lubricants


(2) Idemitsu Kosan Co., Ltd. Chiba Plant

Location: 1-1 Anesaki Kaigan, Ichihara-shi, Chiba
Plant manager: Ryuhei Masumoto
Site area: About 1.08 million m2
Date of start-up: February 1975
Ethylene production capacity: 374,000 t / Y
Major products: Petrochemical products and plastics


(3) Mitsui Chemicals, Inc. Ichihara Works

Location: 3 Chigusa Kaigan, Ichihara-shi, Chiba
Works manager: Syunji Ikeda
Site area: About 1.42 million m2
Date of start-up: March 1967
Ethylene production capacity: 553,000 t / Y
Major products: Petrochemical products and plastics
Location of Company Refineries and Production Facilities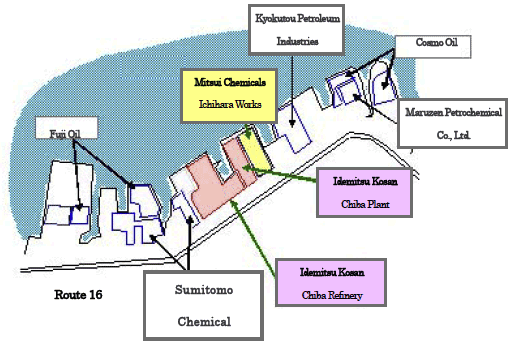 ---
Attachment
Limited Liability Partnership (LLP) for Joint Operation of Ethylene Complex in Chiba-Area(PDF:168KB)