Commencement of Operation at Joint Research Facility for Propylene Production Utilizing C4-Fraction By-products
January 25,2010
Idemitsu Kosan Co.,Ltd.
Sumitomo Chemical Co.,Ltd.
Mitsui Chemicals,Inc.
Idemitsu Kosan Co.,Ltd.(hereinafter referred to as"Idemitsu") with its Head Office in Chiyoda-ku,Tokyo (Kazuhisa Nakano,President),Sumitomo Chemical Co.,Ltd.(hereinafter referred to as"Sumitomo") with its Head Office in Chuo-ku,Tokyo (Hiroshi Hirose,President),and Mitsui Chemicals,Inc.(hereinafter referred to as"MCI") with its Head Office in Minato-ku,Tokyo (Toshikazu Tanaka,President & CEO) announced that operation commenced on January 25th at the joint research facility for propylene production utilizing C4-fraction by-products in Chiba,Japan under the joint project of the three companies which had started in April 2006.
1.Background and Concept
Domestic refining and petrochemical companies are facing fierce international competition from advanced large-scale oil and petrochemical plants in the Middle East and China amid soaring crude oil prices,and are intensifying their competitiveness through various measures including closer cooperation among companies such as further integrating the utilization of facilities between their complexes.
Chiba is a major production base where Idemitsu,Sumitomo,and MCI each have facilities for the production of petrochemical products and derivatives from olefins and aromatics.The companies'ethylene crackers and a fluid catalytic cracker (FCC) are located close to one another.In addition,the complexes are connected with a pipeline network.The three companies decided to strengthen their competitiveness by capitalizing on the strength of their close location to develop a high-efficiency production system for clean fuel and propylene utilizing C4-fraction by-products from the refinery and petrochemical plants as well as ethylene as raw materials.Specifically,the companies embarked on a joint research project for the development of a propylene conversion process in April 2006 as part of their collaborative undertaking called "Research Association of Refinery Integration for Group Operation (RING III) Project".
2.Overview of High-Efficiency Propylene Production System (refer to attachment)
Propylene production capacity
150,000 m.t./year
R&D expenditure
Approx.¥10 billion
(Investment ratio: Idemitsu 50%,Sumitomo 25%,and MCI 25%)
Location of Joint research facility
At Ichihara Works,Mitsui Chemicals,Inc.
Start of construction
February 2008 (Groundbreaking February 7,2008)
Start of operation for verification
January 25,2010 (Ceremony to celebrate the completion March 2010 tentative)
Attachment: Process Diagram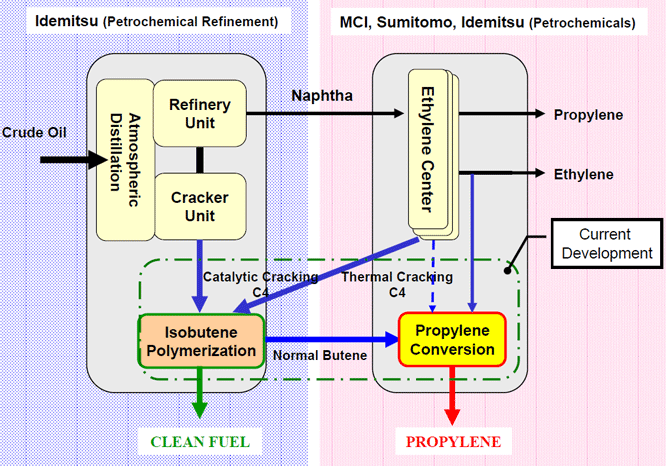 Attachment
Commencement of Operation at Joint Research Facility for Propylene Production Utilizing C4-Fraction By-products (PDF:97KB)