Mitsui Chemicals Announces Commencement of Commercial Operations at Foshan Mitsui Chemicals Polyurethanes Co., Ltd. in China
June 20, 2011
Mitsui Chemicals,Inc.
Mitsui Chemicals, Inc. (Toshikazu Tanaka, President & CEO) announced the May 5th commencement of commercial operation at its Foshan Mitsui Chemicals Polyurethanes Co., Ltd. ("FMPU") production facilities in South China.
FMPU is one of the Company's strategic "System Houses" (Note 1) which manufactures and distributes polyurethane foam materials (Note 2) and provides comprehensive technical service to clients. The commencement of commercial operations will increase the Company's share in automotive materials (mainly seat cushions) of rapidly expanding automobile manufacturers in South China and support development of new materials, based on the Company's technological expertise cultivated on the Japanese market, to better cater to local market needs.
FMPU is the Company's 6th System House in Asia.
By bolstering localization of development and production, Mitsui Chemicals will strengthen its support to overseas Japanese automobile and automobile part manufacturers, thereby enhancing operational strength for further expansion and long-term sustainable profitability.
Outline
| | |
| --- | --- |
| Company Name | Foshan Mitsui Chemicals Polyurethanes Co.,Ltd. |
| Capital | 7.5 million US dollars |
| Location | Foshan City, Guangdong Province, China |
| Business | Manufacture, sales, and technical support of polyurethane foam materials |
| Production Capacity | 11,000 tons/year |
Note1


System House is a strategic base providing highly individualized manufacture and distribution of polyurethane foam material by adjusting production formulas to cater to specific client needs. Mitsui Chemicals has established System Houses in strategic markets to accelerate and fully utilize technology developed in Japan to cater to individual client requirements. The system has been highly evaluated by overseas clients.
Note2


Polyurethane foam is a polymer made from the chemical reaction of isocyanates and polyols to which a blowing agent is introduced to control cell structure. Polyurethane foam can be soft and resilient or hard and rigid depending on the materials used in formulation. Some of the numerous uses are bedding, automobile seat cushions, and thermal materials for electrical appliances and storage facilities.
[Attachment]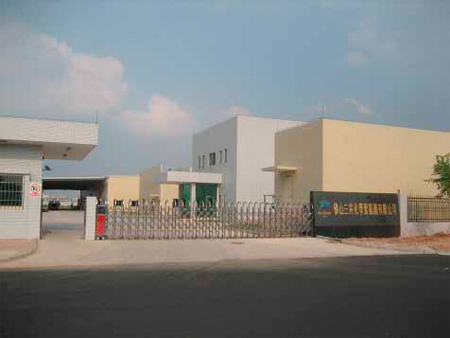 Photograph of Foshan Mitsui Chemicals Polyurethanes Co., Ltd.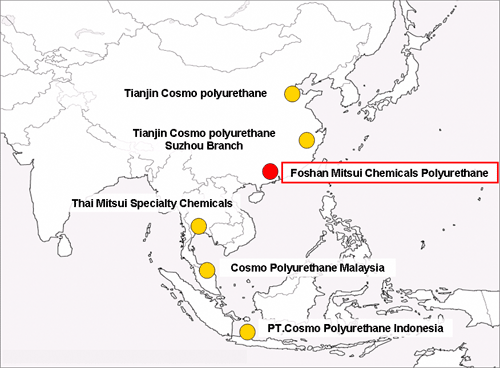 System House Sites
---
Attachment
Mitsui Chemicals Announces Commencement of Commercial Operations at Foshan Mitsui Chemicals Polyurethanes Co., Ltd. in China(PDF:268KB)