Joint Venture Agreement for Electrolyte Solution with Formosa Plastics Corporation
December 27, 2012
Mitsui Chemicals, Inc.
Mitsui Chemicals, Inc. (hereinafter referred to as "MCI") with its Head Office in Tokyo, Japan (Toshikazu Tanaka, President & CEO) and Formosa Plastics Corporation (hereinafter referred to as "FPC") with its Head Office in Taipei, Taiwan (Chu Tsueng Lee, Chairman) announced that the two companies entered into an agreement on December 27, 2012 to form a joint venture company in China to manufacture and distribute electrolyte solution, one of the main components of lithium-ion batteries.
Bolstered by the growing smart phone and tablet device market, the need for lithium-ion batteries which provide large energy capacities in compact sizes has expanded significantly.
Additionally, the market is further expected to grow in line with expansion of hybrid vehicle and electric vehicle use. Especially in China, demand for lithium-ion batteries is forecasted to grow dramatically with expanded market demands, including that for electric vehicles.
Against this backdrop, MCI and FPC will take advantage of the two companies' technologies and expertise with electrolyte solution to target early establishment of manufacturing and distribution systems for high quality electrolyte solution to respond to accelerated demand of the Chinese market.
Outline of Joint Venture
| | |
| --- | --- |
| 1. Ownership | Mitsui Chemicals 50%, Formosa Plastics Corporation 50% |
| 2. Establishment | March 2013 (tentative) |
| 3. Location | Industrial complex of FPC Ningbo, China |
| 4. Business | Manufacture, sales, research for electrolyte solution in China |
| 5. Production capacity | 5,000 tons/year(first phase) |
| 6. Commercial operation | May 2014 (tentative) |
| 7. Total investment | approximately US$ 20 million |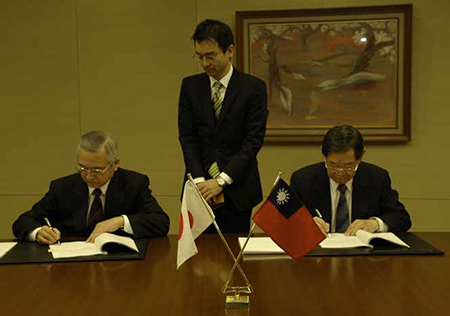 Outline of Formosa Plastics Corporation
| | |
| --- | --- |
| 1. Establishment | 1954 |
| 2. Location | 201 Tun Hwa N.Road Taipei, Taiwan |
| 3. Capital | US$ 2,021 million |
| 4. Employees | 5,362 persons |
| 5. Business | Petrochemicals, chemical businesses |
---
Attachment
Joint Venture Agreement for Electrolyte Solution with Formosa Plastics Corporation (PDF:63KB)