February 25, 2013
Mitsui Chemicals, Inc.
Mitsui Fine Chemicals, Inc.
Mitsui Chemicals, Inc. (Toshikazu Tanaka, President & CEO) and Mitsui Fine Chemicals, Inc. (Mamoru Kioka, President), a wholly-owned subsidiary, announced test marketing of an innovative modifier EXFOLA™ which transforms surfaces to be silicone-rich when added in small amounts to polyolefin.
Outline of EXFOLA™
| | |
| --- | --- |
| 1. Product: | Olefin copolymer silicone |
| 2. Brand name: | EXFOLA™ |
| 3. Technology: | Mitsui Chemicals technology |
| 4. Distribution: | Mitsui Fine Chemicals, Inc. |
| 5. Schedule: | Test marketing from February 2013 |
EXFOLA™ is a completely new silicone surface modifier which uses Mitsui Chemicals' proprietary catalyst and synthesis technology.
With good polyolefin (polyethylene, polypropylene) compatibility, EXFOLA™ can be added in small amounts during molding to modify surfaces to assume characteristics of silicone (release properties, water repellency, oil repellency, abrasion resistance).
In addition, this new material resolves disadvantages of conventional silicone-based modifiers, such as contamination and transfer caused by bleed out, changes over time, incompatibility with polyolefin materials, and poor formability.
As EXFOLA™ is compatible with film and sheet molding, injection, blowing, and inflation, wide applications are expected in electric and electronic materials, food packaging, automotive, building, medical and industrial materials.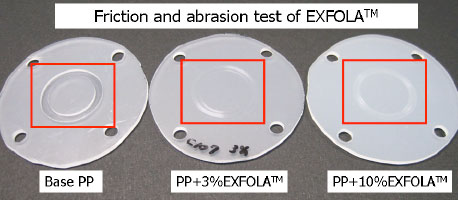 *

Friction and abrasion tests show distinct wearing in base PP material (circular groove in material on left) and less distinct wearing in PP with 3% EXFOLA™ (center), and even lesser wearing in PP with 10% EXFOLA™ (right).
---
Attachment
Development of Silicone-based Surface Modifier EXFOLA™ (PDF:82KB)