September 30, 2014
Mitsui Chemicals, Inc.
Mitsui Chemicals, Inc. (Tsutomu Tannowa, President & CEO), Mitsui & Co., Ltd., C-Tech Corporation, Toagosei Co., Ltd., Toshiba Corporation, Toray Industries, Inc., and Mitsui Engineering & Shipbuilding Co., Ltd., with Trans Value Trust Company, Ltd. as the power generation operator, commenced construction of Japan's largest hybrid power plant using solar and wind power in Aichi Prefecture in November 2012.
From October 1st, following test runs starting in June, the plant will officially commence commercial operation. A completion ceremony will be held on site on October 8th (Wed) from 11:00.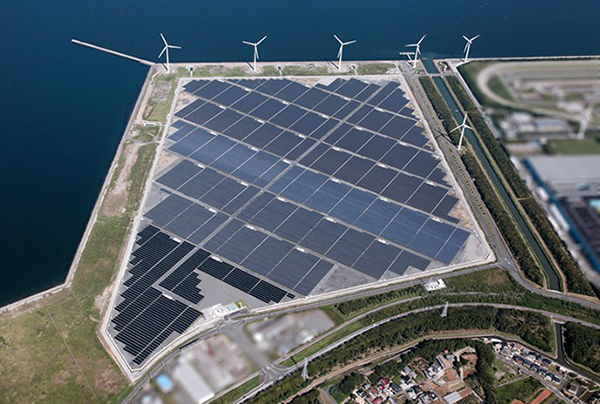 1. Outline
Name
Tahara Solar / Wind Electricity Generation Plant
Location
Midorigahama, Tahara City, Aichi Prefecture
Generation capacity
Solar Power 50MW module output (conditioner module output 35MW)
Wind Power 6MW (2MWx3 modules)
Solar cell modules
Monocrystalline silicon: 26MW, Polycrystalline silicon: 20MW, Compound semiconductor: 4MW
Annual generation
Total solar and wind electricity generation: Approximately 67,500MWh/year
(equivalent to annual consumption of approximately 19,000 households,
which corresponds to approximately 90% of Tahara City's households)
Environmental contribution
Reduction of carbon dioxide emission: approximately 32,000 tons CO2 / year
(equivalent to carbon dioxide absorption of 2.3 million cedar trees)
2. Characteristics of plant
(1) Largest domestic hybrid solar and wind power generation plant
Hybrid generation plants generating electricity with both solar power and wind power are less susceptible to climatic effects and can stably supply electricity. Tahara is Japan's largest hybrid generation plant.
(2) Promotion of renewable energy by taking advantage of knowledge of participating companies
The plant uses four solar cell modules (1 monocrystalline silicon, 2 Polycrystalline silicon, and 1 compound semiconductor) and will collect and analyze power generation status data by remote monitoring systems as an experimental facility. Participating companies will share information and know-how on issues arising in the operation of the project and resolve problems by taking advantage of each company's knowledge thereby contributing to the promotion of renewable energy.
(3) Serve as a learning facility on environmental issues for local area
The plant will be used by local schools (elementary, middle, and high schools) and other educational facilities of Tahara City, Aichi Prefecture to teach children about environmental issues and raise awareness.
---
Attachment
Start-up of solar and wind power generation cooperative in Tahara (PDF : 176KB)