October 27, 2014
Mitsui Chemicals, Inc.
Mitsui Chemicals, Inc. (Tokyo: 4183, President & CEO: Tsutomu Tannowa) announced that it commenced sales of a new breakthrough ophthalmic lens material that helps protect eyes from not only ultraviolet (10-400nm) light rays but also 400nm-420nm wavelength light.
Product line-up: Sale startup for lens materials with refractive indices of 1.67 and 1.74
Our eyes are constantly damaged by sunlight exposure and therefore it is important to protect eyes from UV exposure. Recent studies have shown, however, that shorter wavelength light from 400nm-420nm also damages the retina, which is the most vulnerable tissue of the eye, and this can be one of the factors which accelerates the development of Age-related Macular Degeneration (AMD) and cataracts. Although many conventional sunglasses, in addition to protecting from UV rays, provide protection from shorter wavelength light, general vision correction lenses do not. Mitsui Chemicals' newly debuted lens material, "UV+420cut™", helps protect eyes from damaging short wavelength light.
This technology is used in the new 「LUTINA®」lenses of Tokai Optical Co., Ltd.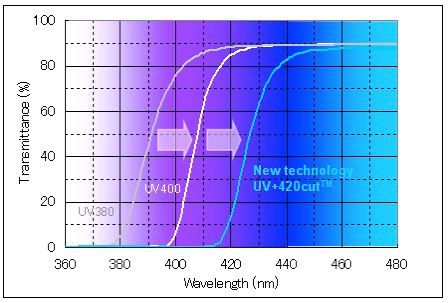 Figure 1 "UV+420cut™" blocks the shorter wavelength light of 400nm-420nm in addition to UV rays.
Mitsui Chemicals provides performance-driven lens materials ranging from high to low refractive indices as well as optimum coating materials for lenses to meet diversifying global market needs. It will continue to develop groundbreaking, value-added vision care materials.
---
Attachment
Launch of New Lens Material "UV+420cut™" (PDF : 294KB)