FORTIMO™ Adopted for New YONEX Tennis String REXIS
~ FORTIMO™'s flexibility and high elasticity achieves an unprecedentedly hitting feel ~
2017.03.15
Mitsui Chemicals, Inc.

Mitsui Chemicals Inc. (President & CEO: Tsutomu Tannowa) announced that the world's first polyurethane elastomer FORTIMO™ has been adopted for the new tennis string REXIS manufactured by YONEX CO., LTD. (President: Kusaki Hayashida), scheduled to go on sale in late March, 2017.
In advance of the launch, REXIS is already being used by top world tennis player who praise the new string highly.
( http://www.yonex.com/sports/tennis/products/tennis/string/strings/rexis-125/ )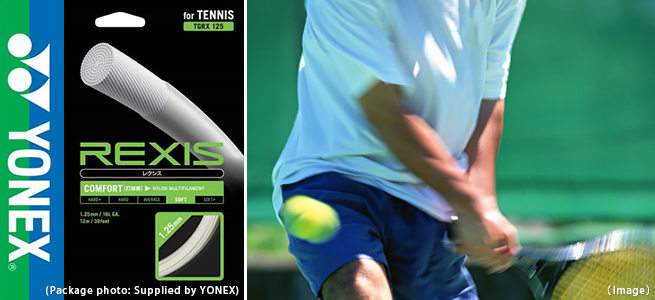 Harnessing YONEX's new manufacturing technology and the flexibility and high elasticity that characterizes FORTIMO™, REXIS delivers deep bite and high repulsion, improving ball speed by 4%* compared with existing products. Further, with FORTIMO™'s characteristics of high durability and non-yellowing, the product has achieved 21%* improved durability compared with existing products.
REXIS is the best string for players of a range of abilities, from athletes seeking ball speed to senior players wishing to hit the ball with greater ease.
Mitsui Chemicals will contribute to society primarily in Mobility, Healthcare, and Food & Packaging domains through accelerate the development of new applications of FORTIMO™ that combines environmental and functional characteristics.
* verification results obtained by Yonex machine testing