Mitsui Chemicals to Participate in Solar/Wind Electricity Generation Project in Aichi Prefecture
- Largest Domestic Mega Solar Power Plant -
October 21, 2011
Mitsui Chemicals, Inc.
Mitsui Chemicals, Inc. (Toshikazu Tanaka, President & CEO) announced signing a fundamental agreement to study feasibility and collaboration in constructing Japan's largest solar and wind electricity generation facility in Tahara City, Aichi Prefecture. Mitsui Chemicals will collaborate with other companies also possessing experience in renewable energy with cooperation from the Chubu Electric Power Co., Ltd. ("Chubu Electric").
1. Outline (tentative)
Name
Tahara Solar/Wind Cooperative Commercial Operation
Participating Companies
Mitsui Chemicals, Inc., Mitsui & Co., Ltd., Toagosei Co., Ltd., Toshiba Corporation, Toray Industries, Inc., Mitsui Engineering & Shipbuilding Co., Ltd.,.
Chubu Electric Power Co., Ltd. or its group companies is studying participation.
Generation Capacity
Solar Power 50MW, Wind Power 6MW
(Generated electricity, in accordance with provisions of the Law on Special Measures Concerning Procurement of Renewable Energy Sourced Electricity by Electric Utilities, will be sold in its entirety to Chubu Electric)
Location
Midorigahama, Tahara City, Aichi Prefecture on property owned by Mitsui Chemicals (820,000 sq meters)
Total Investment
Approximately 18 billion yen
Schedule
Start of Construction: June 2012  Completion: September 2013
Business Span
18 years
*

The Law on Special Measures Concerning Procurement of Renewable Energy Sourced Electricity by Electric Utilities will establish procurement price and term (scheduled for early 2012). Review and revisions may be made to the business plan as necessary.
2. Importance and Objective
The project is significant in bringing together six companies with technology and knowledge of solar and wind electric power generation products and business operations to construct Japan's largest facility for solar (mega solar) and wind electricity generation with collaboration of Chubu Electric. In line with the government's promotion of renewable energy, numerous "mega solar" and wind electric generation projects are expected. Reinforcement of infrastructures for generation and connective systems, in addition to development of technology and cost cuts will be necessary. Participating companies will share knowhow and issues during the long term management of the operation. This accumulated problem resolution knowhow will contribute to future efforts in renewable energy.
The Mitsui Chemicals Group continues ongoing efforts to develop materials for renewable energy. Currently, the Group produces and distributes an encapsulant for solar cells under the trade name SOLAR EVA™, a solar cell adhesive, and LUCANT™, a lubricant with wide applications which include use in wind generation systems.
The Group will accelerate research and development of material and technological solutions for renewable energy based on insight gained from participation in the project.
3. Location and collaboration
The construction site is a choice location due to its top level daylight hours and wind velocity which are expected to yield high generation.
Additionally, the project has received support from municipal and prefecture governments as it coincides with new energy plans. Member companies will continue to pursue development of new energy while collaborating with municipal and prefectural bodies and fulfilling responsibilities to the community.
The project expects to be financed by the Development Bank of Japan.
4. Contribution to environment
Total solar and wind electricity generation: Approximately 67,500MWh/year
(equivalent to annual consumption of approximately 19,000 households, which corresponds to approximately 90% of Tahara City's households. )
Reduction of carbon dioxide emission: Approximately 32,000 tons CO2/year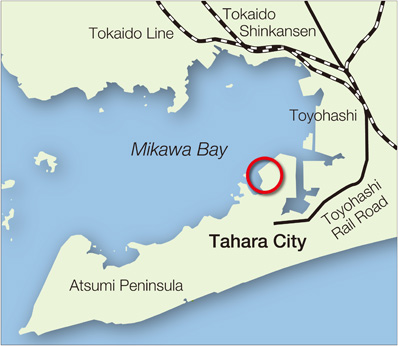 Location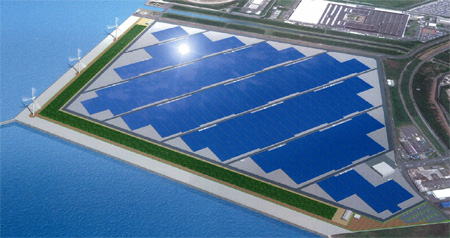 Architectural Rendering
---
Attachment
Mitsui Chemicals to Participate in Solar/Wind Electricity Generation Project in Aichi Prefecture (PDF:196KB)