February 6, 2014
Mitsui Chemicals, Inc.
Mitsui Chemicals (Toshikazu Tanaka, President & CEO) announced today the following organizational restructuring to be effective from April 1, 2014.
1. New Position: Representative in Asia
The Company will appoint a Representative in Asia. This person will be responsible for collection of information on consumption and market trends, and delivering advice on political, financial, and social movements within Asia (excluding China) to enable the Group to betteralign its marketing strategy to meet area needs.
2. New Division: Business Efficiency Promotion Division
The Company will establish a new Business Efficiency Promotion Division. This division will oversee operational efficiency and effectiveness to optimize drastic cost reduction efforts in line with compelling needs to ensure successful execution of business strategies.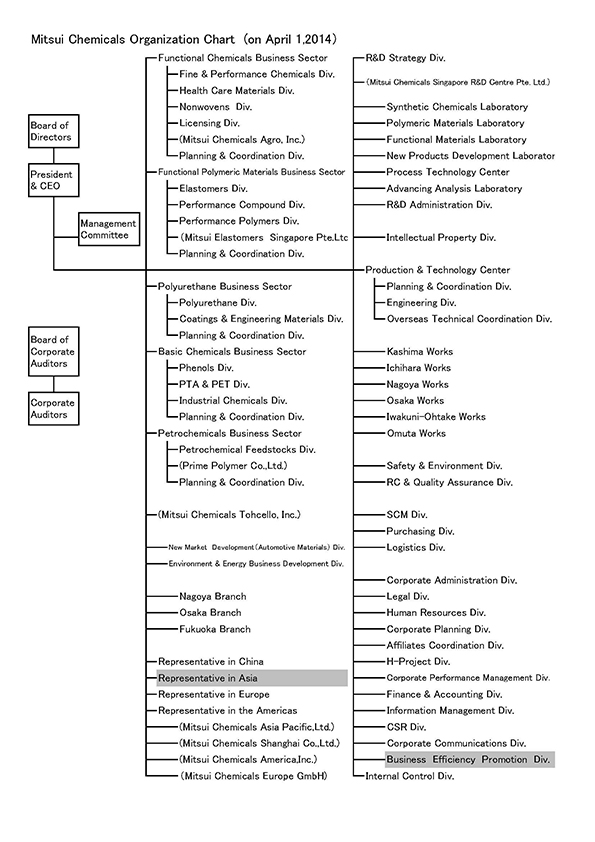 ---
Attachment
Organization Restructuring Effective April 1, 2014 (PDF:42KB)


Mitsui Chemicals Organization Chart (on April 1,2014)(PDF:37KB)