July 24, 2014
Mitsui Chemicals, Inc.
Mitsui Chemicals, Inc. (TOKYO:4183 ; President & CEO: Tsutomu Tannowa) announced that it held an opening ceremony on July 23rd for its wholly owned subsidiary, Mitsui Chemicals Nonwovens (Tianjin) Co., Ltd. ("MCNT") in Tianjin, China.
The ceremony was attended by Tianjin government officials from the Xiqing Economic Development Area and other guests.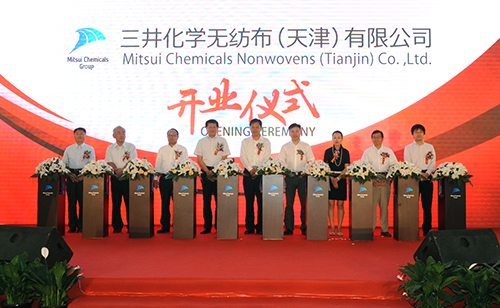 MCNT was established in November 2011 and commenced manufacturing of spunbonded nonwovens at its 15,000 ton/annum production facility and sales in December 2013. (see note below)
The Mitsui Chemicals Group has two other production facilities for spunbonded nonwovens. The Company's Sunrex Industry Co., Ltd. in Yokkaichi, Mie Prefecture, Japan and Mitsui Hygiene Materials Thailand Co., Ltd. in Thailand. Together the three facilities will boast an annual 94,000 ton production capacity.
The Group aims to expand its share in spunbonded nonwoven hygienic materials, such as disposable diapers, in the rapidly growing Chinese market.
Note:

Spunbonded nonwoven fabric is a long-fiber nonwoven that has excellent texture, strength, and dimensional stability. It is widely used in hygienic (disposable diapers, sanitary products) and industrial materials (architectural, civil engineering, and agricultural materials).
---
Attachment
Mitsui Chemicals Nonwovens (Tianjin) Co., Ltd. Opening Ceremony (PDF : 168KB)