November 13, 2014
Mitsui Chemicals, Inc.
Mitsui Chemicals, Inc. (Tokyo: 4183, President & CEO: Tsutomu Tannowa) is pleased to announce that it was awarded the "Best IR Award" (fiscal 2014) by the Japan Investor Relations Association (JIRA) for its proactive efforts to promote investor understanding and good relations.
This year marks the 19th year of the award which is designed to recognize companies that have achieved successful results and gained the support of the investment community by effective and proactive undertakings.
Mitsui Chemicals was selected for the "Best IR Award" from among 261 companies. Members of JIRA screened applications and, for fiscal 2014, selected two "IR Grand Prix Awards", five "Best IR Awards", five "IR Special Awards", and two "Best IR Award for Small to Medium Sized Capitalization Companies".
This is the second consecutive year in which Mitsui Chemicals received recognition. The "Best IR Award" is a higher award than that which the Company received in fiscal 2013, the "IR Special Award", and recognizes the Company and its management's efforts to clearly disclose its management philosophy and business strategies.
The news release of the Japan Investor Relations Association lists the reason for Mitsui Chemicals' selection as follows:
The top management's communications with investors was regarded highly. They have also been viewed favorably for their participation in presentations and facility tours and their open exchange of opinions with investors attending these events as part of their efforts to improve their IR activities. The Company has also been favorably viewed for its clear message, and explanations of various activities in the past and how they have influenced earnings thereafter. The IR division has taken the opinions of investors into consideration and gathered information from each of their business divisions to be used in easy to understand presentations and explanations. In addition, Mitsui Chemical's work to fortify its documents used in business presentations, facility tours, earnings announcement meetings and management presentations have also come to be rated highly.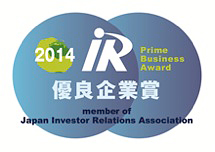 Mitsui Chemicals will continue to strengthen efforts to earn the understanding and trust of its shareholders and investors with an emphasis on proactive dialogue and information disclosure.
For details, please see the Japan Investor Relations Association's website.
https://www.jira.or.jp/jira/jsp/usr/english/en1.html

---
Attachment
Mitsui Chemicals Awarded by Japan Investor Relations Association "Best IR Award" (PDF : 171.76KB)